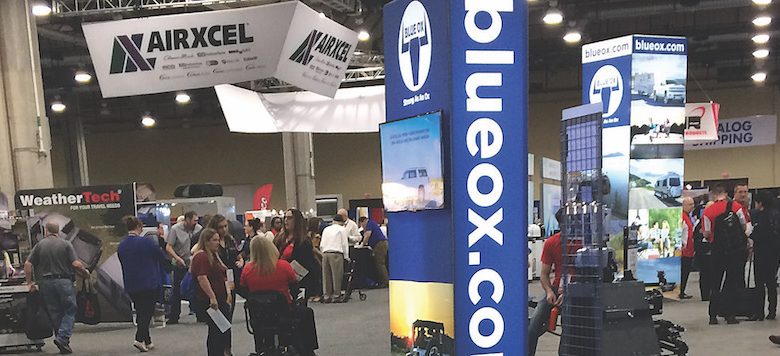 Distributor shows annually give dealers a chance to stock their stores with their most-requested items all at one time with some discounts – and a few fun events on the side.
Most of the regional distributors tend to stick to locations
nearest their customers. However, a few of the larger national distributors are making their annual shows the place to be for 2019. Arrow Distributing will host its show Jan. 15 and Jan. 16 at Bally's in Las Vegas. NTP-STAG's show is scheduled for Jan. 22 and Jan. 23 at the Gaylord Opryland in Nashville, Tenn. Both shows promise good deals, good fun and good educational opportunities on top of time to make new acquaintances and catch up with friends in the industry.
New Ideas in Music City 
When NTP-STAG – the RV industry's largest distributor – hosts its annual Expo on Jan. 22 and Jan. 23 at the Gaylord Opryland in Nashville, it won't just be offering dealers a showroom full of new products and services.
This year's event is geared toward getting dealers to look at new ideas and new ways to do business and drive revenue as the face of RVing changes.
From an opening breakfast by new sponsor DISH to new training opportunities at RV University classes, a mobile service concept vehicle, and even new crossover automotive products and ideas presented at NTP-STAG's model store, dealers will be challenged like never before with notions meant to help them grow their footprint and their revenue opportunities, according to John Spaulding, director of communications and events for NTP-STAG.
"One of the themes of the show is finding new ways to help our customers grow their business," he says.
Spaulding says the distributor is expecting about 200 exhibitors to fill the 100,000-square-foot space, and that dealer attendance is expected to be comparable to the past few years with dealers coming from across the U.S. and Canada.
The bulk of the first day of the show will be taken up by educational opportunities through RV University and NTP-STAG's PRO series. In addition, sessions will include a look at key initiatives from association partners such as RV Industry Association and RV Dealers Association, and key NTP-STAG programs.
In all, there will be 36 presentations and three PRO seminars before the exhibit floor opens at 4 p.m. on Jan. 22.
But, starting with that opening breakfast, the theme of growth and new ideas for revenue will take the stage.
"We've established a relationship with DISH satellite company," Spaulding says. "We think the DISH service subscription sold through the dealerships where the satellites are also being sold is a great opportunity for them to pick up on a customer sales opportunity that they may not have had in the past. DISH is going to be presenting their program at our event this year specifically for helping RV dealers take advantage of that subscription revenue that is out there on top of satellite and receiver sales."
RVU will continue that theme, as suppliers focus on exposing dealers to new products to sell and market. Presentations are expected to include opportunities to magnify new products and how to better present them to customers Spaulding says that NTP-STAG's model store this year will focus more on the presentation than on the technology, which was a big hit at the 2017 show.
"We're going to take a whole new look at plan-o-gramming with brand-new categories and ways to reimagine or re-engineer their retail space," he says. "We want to show how that space can be utilized to expose more customers to new items. Maybe dealers can move some products that are better suited to be behind the counter to open up space on the show floor to encourage browsing and impulse purchases."
The model store will unveil merchandising strategies and better use of end caps.
Spaulding says that dealers also will be encouraged to face repair event cycle times by realizing there are some opportunities already in place to help get customers back on the road quickly. He points to NTP-STAG's MagniFinder program and next-day delivery service as well as the Part Ease program to help dealers find the right parts that they should keep on hand to fix the most common repair problems.
And if dealers haven't gotten enough moneymaking ideas by that point, the distributor has put together a concept truck that is geared toward getting dealers to think about going mobile with their service departments.
Some dealers across the country offer mobile service at campgrounds, helping RVers not have to interrupt their vacations to get minor repairs accomplished.
"It's designed to show dealers how they can extend the reach of their service outfit beyond the footprint of their business," Spaulding says. "You not only connect to your existing customers, but it's an outreach program to new customers. That experience can draw other kinds of visits and potentially rolling stock sales."
Still, everyone knows there is more to distributor shows than just serious business. The first evening of the show, a reception begins at 6 p.m. in the exhibit hall with food and beverages served as well as a special event.
For the second day of the show, a full day on the exhibit floor will be capped off by a special event at the Wild Horse Saloon in downtown Nashville with live music and food. For those wishing to extend their evening, the Wild Horse is within easy walking distance of many of Nashville's other music attractions, as well as the homes of the Nashville Predators and Tennessee Titans.
"As a company, we really look forward to this event once a year," Spaulding says. "It's a great opportunity to meet face-to-face with our customers from all over North America. We feel like it's a privilege to put our best show together to allow our suppliers to not only visit with our staff, but with our customers. I think that whole interaction creates energy around a positive launch to the beginning of the year."
Thinking Big in Vegas
As Arrow Distributing was wrapping up its 2018 show in Biloxi, Miss., vice presidents Andy and Andrea Mullin were ecstatic with the success of the show. However, they might have had one slight regret – the venue at the IP Casino, Spa & Resort wasn't big enough to hold all of the suppliers and vendors who had hoped to exhibit.
That won't be the case this year, as the Nebraska-based distributor has booked one of Las Vegas' premiere spaces and one many RV dealers are familiar with thanks to the RV Dealers Association – Bally's. The event is scheduled for Jan. 15 and Jan. 16.
"Bally's is more than double the space we had last year," Andrea Mullin says. "We have ample space for our January show. We're still selective about who attends, but once the decision is made to have a vendor exhibit, we are able to accommodate them better this year. We have quite a bit of space this year and we're going to make use of it. We can set up the room differently and get more creative ways to allow our vendors to set up their booths."
Even at the time of RV PRO's interview, vendor and dealer registration was at a record high for the Arrow Show, Andrea Mullin says, so the larger venue appears to have paid off.
"We're pleased about how our attendance is looking right now for the 2019 show," she says. "Right now, we have more vendors for the show than we have in years past and we're expecting even more. The dealer turnout is ahead of schedule. We're definitely ahead of the game for this time of year on both vendors and dealers."
Not everything at the show will be brand new, however. For the second straight year, dealers will be able to take part in a "Poker Run" event.
Each hour during the show, a specific exhibitor will hand out a card to dealers at the exhibitor's booth. Dealers who collect a winning hand will be eligible for prizes. During the vendor's hour to hand out cards, the vendor also offers a product at a discount.
"This will be our second time doing this," Andrea Mullin says. "It was a major hit last year and it drummed up a lot of excitement. The enthusiasm lasted right up to the final poker park."
Also well-attended during the 2018 show, a series of educational classes and vendor training sessions will be held Jan. 15. Getting to Bally's also will be a snap thanks to VIP sponsors Progress Manufacturing and Winegard. The two companies will sponsor a limousine stocked with refreshments and snacks that will make the trip from the airport to the hotel.
"It's a great central location right in the heart of the Las Vegas strip," Mullin says. "People can walk around and shop and there are plenty of restaurants. One thing I like about Bally's is it is connected to the Paris, so you have two hotels in one. There are many options for food, restaurants and entertainment. We're really excited that this is the biggest venue where we've ever had the Arrow Show."