Features
Vermont's 'Candy Store of Campers'
The lure of the outdoors, a booming family business, and the opportunity to rejoin his parents in their work drew Logan Gregoire away from an exciting career in Washington, D.C., and back home to Vermont last year.
Gregoire grew up in the family business, Vermont Country Campers, in the town of East Montpelier, just outside of the state's capital of Montpelier. But after graduating from the University of Vermont with degrees in political science, psychology, and anthropology, he landed a job as a staff member on the Senate Judiciary Committee, where he worked for U.S. Sen. Patrick Leahy of Vermont for four years.
"During that time, my dad and I were on the phone every night, talking shop," he says. His dad is Layne Gregoire, who with his wife, Cindy, launched Vermont Country Campers in 1996. In the nation's capital, Gregoire was missing his life back in Vermont. So, even though he had just received a promotion at his job in the Senate, he decided to return home.
"That's how serious I was about coming back and joining the family dealership," he says.
Business is Booming 
It was a good time to get back to the business. Vermont Country Campers – which Gregoire says is one of the highest-volume dealerships in New England – was making plans to open a new location two hours away in Epsom, N.H.
"Business is great. Our growth has been exponential, especially in the last five years," Gregoire says. The dealership sells RVs to customers across New England, with 50 percent of its sales coming from out of state. The expansion to New Hampshire was intended to serve an existing customer base there and take advantage of the potential for growth.
Epsom, population 5,000, is located just 12 miles east of the state capital of Concord, population 43,000. It is located about 22 miles north of Manchester – the largest city in northern New England – with a population of about 112,000.
Gregoire, who serves as director of sales and jack-of-all-trades, attributes the dealership's success to the fundamentals, including a strong focus on service after the sale.
Vermont Country Campers and now New Hampshire Country Campers also benefits from its wide selection of products – everything from tent campers to Class A motorhomes – which helps it attract a wide consumer demographic.
"Our demographic is nationwide and all age ranges, all different financial backgrounds," Gregoire says. The customers are buying RVs for a variety of reasons, too.
"A couple of weekends ago, we had someone who had just retired getting a motorhome. We had a young family going out for the first time, buying a pop-up. And there was a family trying to reconnect with their teenagers; they were looking at a travel trailer," he adds.
Gregoire says the dealership focuses on carrying in-demand brands from companies that stand behind their products. "Grand Design, Forest River, Winnebago, and Keystone are mainstays," he says. "I have access to 40 different brands. We essentially are the candy store of campers."
As a result of its wide selection of products and online sales presence, Gregoire says Vermont Country Campers attracts customers from far beyond the New England area.
"I had a gentleman who bought from us in California. He made it a road trip with his family," he says. "He picked up his motorhome and drove back home to California."
Gregoire says Vermont Country Campers passed $22 million in sales last year and sold more than 800 units two years in a row. "We went from 600 (in 2015) to 801 to 831, and we're on track to surpass 800 again this year," he says.
From Humble Beginnings 
Vermont Country Campers success is all the more remark- able considering its humble beginnings in 1996.
Gregoire tells the story of his father's entrance into the RV industry: "He started with $8,800 and four pop-ups. He was selling them on the lawn of my godfather's house," he says. "He'd literally have them on the front lawn."
Actually, Layne Gregoire's origins in the industry date even further back, working at an RV dealership as a young man in the 1980s, his son says.
"He fell in love with the camping industry. He saw the happiness that people had when they got their campers," Logan Gregoire says. "But he did not like the way customers were treated after the sale. He thought he could do it better."
After more than a decade as a traveling salesman in another industry, Layne Gregoire began talking seriously with a dealer who was hoping to transition out of the business. But Layne and his wife didn't have the money to buy into the dealership.
"They saved for a year," Logan Gregoire says. "It was the American story of eating noodles and getting together with friends to see what they had in the freezer."
After a year of scrimping and putting away money from Layne's earnings and Cindy's pay as a teacher, they were ready to launch Vermont Country Campers in 1996, sharing the location of the other dealer.
"The other guy had a short-term plan, but my dad had a long-term plan to grow it into a family business," Gregoire says.
In 1999, the Gregoires bought their current location on U.S. Highway 2, nestled between the Winooski River and a wooded hillside. The dealership has acquired surrounding land so that the property now covers 24 acres.
On the site, the dealership has a 6,500-square-foot building and room to park hundreds of campers for sale. About 40 employees work at the dealership. The 10 service technicians use three service bays and an 8,000-square-foot concrete pad.
"Our service techs are amazing," Gregoire says. "They will work in sun, rain, or snow. … They will work in any conditions to get our customers back on the road."
New Store, New Opportunities 
At the New Hampshire dealership, which started selling RVs in June, an 8,500-square-foot building with five service bays sits on 10 acres. The location has 11 employees so far, three of whom are service technicians.
In conversation, Gregoire returns often to the dealership's guiding principle of "excellent service before and after the sale." As an example of that emphasis on customer service, Gregoire says Vermont Country Campers has made the six-hour drive — each way — to Long Island, N.Y., to provide roadside service to a customer.
Why not have another dealer closer at hand take care of the problem?
"They were our customers, and we like to take care of our own," Gregoire says.
"We're looking for them to have an excellent experience, both during the sale and after," he says of customers. "If they have a good experience, they're going to send their friends, they're going to send their family members.
Another aspect of the company's "customer-first" philosophy is a commitment to sell only quality campers, he says.
"We do not put anything on our lot that we ourselves would not camp in," he says. "That's really important. That's part of our inventory philosophy."
The philosophy has earned the dealership strong customer loyalty.
"We have one customer who has bought 20 campers from us in our almost 23 years in business," Gregoire says. "I have a number of customers who have bought from us more than four or five times."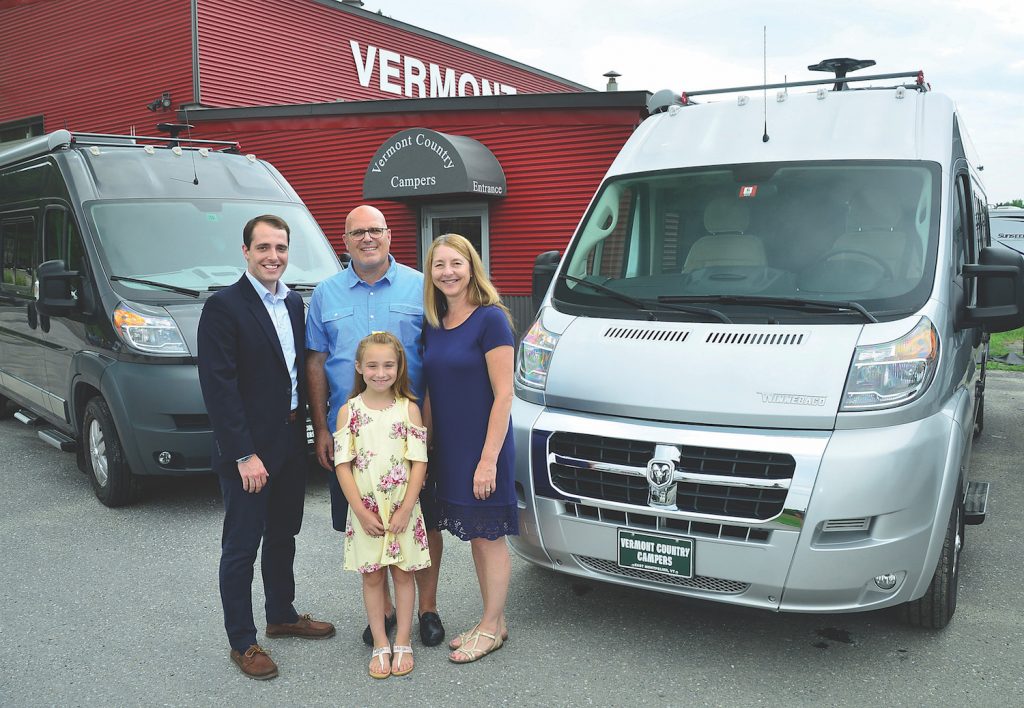 Vermont Country Campers founders Cindy and Layne Gregoire are pictured with their son, Logan, the dealership's director of sales, and daughter in front of the store in East Montpelier, Vt.​
All in the Family 
Layne Gregoire wanted to share his business experience with his son and daughter as they grew up, according to Logan Gregoire.
"My dad and I, since I can remember, have always talked about business, and Vermont Country Campers in particular," he says. "The very first sale I was a part of, I was 10 years old, and we sold a fifth wheel to a lady. She gave me $10 for helping out – my first commission."
Along with that family involvement in business matters, the Gregoires also went camping together, which helped them better understand the issues their customers faced.
"My first camping memories were actually in a pop-up," Gregoire recalls. "My dad made sure to take us camping so we could experience the outdoors, break away as a family.
"It was so important that as a family we understood what our customers were going through," he adds. "A big part of us understanding that service element was us getting out camping.