Features
What Are Younger Full-Time RVers Looking For in an RV?
What this demographic of full-time RVers is looking for in an RV, and how the industry is responding.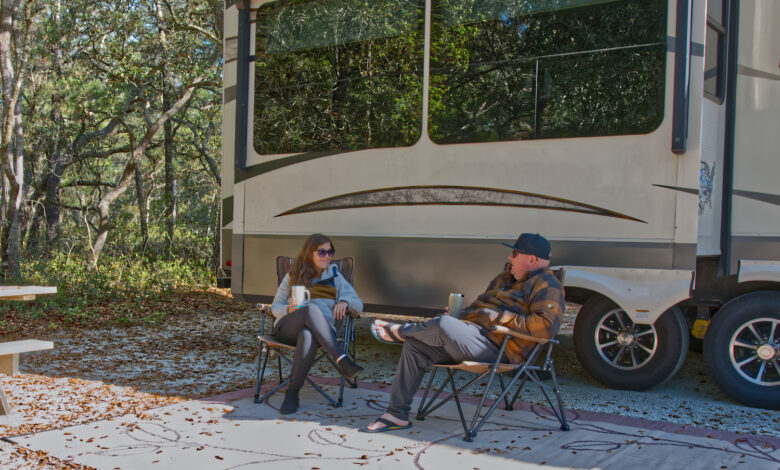 Full-time RVer demographics have dramatically changed over the last five years. Full-time RVing retirees and snowbirds have now been joined by a variety of working-age RVers, including singles, couples and families. In this article, we will explore what this new demographic of full-time RVers is looking for in an RV to live in, and how the industry is responding to this shift.
The New Wave of Working-Age RV Dwellers
As much as the post-pandemic world has changed, one of the biggest benefits has been the shift toward online job opportunities and increased online educational options. More people than ever can work and attend school from anywhere they wish, so why not from an RV?
Outdoor recreation popularity has also soared in recent years. People seem to value spending time outdoors and exploring new places now more than in the past. Younger people are ditching the status quo and inventing a new life on the road with greater freedom and excitement than traditional living arrangements.
As more younger full-time RVers have taken the plunge, this lifestyle has become normalized and has gained in popularity. It's a much more acceptable option today to ditch having roots and live more nomadically than it was in years past.
For example, when our family sold it all to begin RV living back in 2015, it was a bit unheard of and just plain misunderstood by many of our friends and family members. Today, there are many traveling families and working couples/singles that we meet out on the road – just as many younger full-time RV travelers as retirees.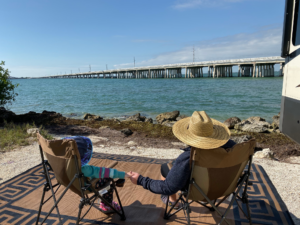 The Unique Needs of Younger Full-Time RVers 
Working-age full-time RVers and families embracing RV living have different needs than retired RVers. One of the biggest differences in this younger demographic is the ability to work or attend school from the RV. Reliable internet is one of the highest priorities with younger RVers in general, but especially those RVing full-time.
Starlink has emerged as a front-runner for keeping RVers connected on the go, and some manufacturers are taking note of this trend by incorporating it into RV models. THOR Industries recently began offering a flat high-performance Starlink dish as an add-on option to Airstream, Entegra, Tiffin and Jayco models. While any RVer can obtain a stand-alone Starlink dish for an internet connection, having an integrated, roof-mounted system adds the bonus of connectivity while driving, which is an exclusive benefit of Starlink's In-Motion Dish.
The younger demographic of full-time RVers is also looking for hybrid or convertible workspaces. RV models that include an integrated desk space, fold-out tables, or a convertible dresser to desk space are highly desirable features. Convertible office areas save space when not working while providing a comfortable work or school area.
Families on the road are seeking additional sleeping and living spaces. Models that have multiple separate sleeping areas with a large enough living room area for the whole family to sit are the highest in demand with this RVer demographic.
Specific RV Features Desired by Younger Full-Time RVers
What are the specific RV features likely to win the hearts of families and working-age RVers? Let's look at a few key features.
Convertible Office Spaces: Mid-bunk floorplans provide a door for a quiet office environment. Foldable master beds create a larger bedroom space with a dresser that converts to a desk space. An integrated desk in the kitchen or living room area also provides workspace. Toy haulers with flexible garage space for additional sleeping or working areas are a desirable option.
More Sleeping Areas: Lofts increase sleeping spaces while still maintaining a smaller RV footprint. Murphy beds add a sleeping area without sacrificing the living room. Bunk beds or toy hauler garages are also popular options to increase sleeping areas.
Additional Storage: Rear master bedrooms provide room for additional outdoor storage underneath. Large food storage areas, including a pantry and residential-size refrigerator, are highly desired for RV living. A large closet space with washer and dryer hookups for daily laundry needs are also ideal.
Upgraded Technology: Younger RVers, in general, are drawn to the convenience of app-controlled RV functions such as slides, auto-leveling and awnings.
Other Desired RV Features: Some manufacturers are beginning to add additional features that are high on full-time RVers' lists, such as dishwashers, standard auto-level, upgraded suspension and improved pin boxes. However, some features that RVers desire still aren't widely available. These features include a factory option for disc brakes, the ability to dump tanks from inside the RV, standard awning wind sensors, and built-in RV surge protectors.
RV Models Meeting This Younger Demographic's Needs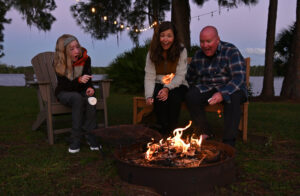 Here are some examples of design tweaks and new innovations in RV floorplans that meet this unique customer's needs.
One-Level Fifth Wheels: The Columbus River Ranch 392MB by Palomino offers a mid-bunk floorplan perfect for families. One-level living provides complete under-the-coach storage space not widely seen elsewhere.
Two Suite Floorplans: There is a recent trend toward offering two master suites in fifth wheels with a loft over the rear suite. This popular plan provides three separate sleeping spaces with two full bathrooms. An example of this floorplan is the Grand Design Solitude 391DL.
Loft Floorplans With Stairs: Families with smaller children prefer lofts with stairs versus a ladder. A model that packs in loads of family-friendly living and kitchen space while still offering stairs to a spacious double loft is the Montana High Country 377FL from Keystone.
Motorhome With a Second Bedroom for Kids: The Fleetwood Fortis 36Y is a game-changing family Class A floorplan. This model offers a unique kid cave, which is a true bunkroom similar to what you can find in many towable RVs.
Flexible Bunk/Office Space: The Ember 190MSL offers an EmberTrack repositionable bunk system that allows bunks to be raised or removed completely to create a multipurpose office space. This area also has a hatch feature to open the space up with an outdoor view and a screen to keep bugs out. This flexible space can be used as additional storage.
Convertible Bedroom Dresser: A dresser top that slides out to double as a desk space helps RVers use the master bedroom as an office space. The Brinkley Z3100 is an example of a model with this feature.
Separate Dedicated Office: The Shasta Phoenix 373MBRB has a one-of-a-kind floorplan with a bunkroom and a separate mid-RV office space with a door. It's rare to find a dedicated office or private office space like what is offered in this model.
Pantry/Office Space: Have you ever seen an RV pantry so large that it could also serve as an office? The Keystone Alpine 3912DS offers two full suites and an enormous U-shaped counter pantry full of upper and lower cabinets. This space is large enough to double as a private office space with a door.
As full-time RVer demographics continue to shift toward younger working-age couples, singles and families, will the RV industry keep up with the features this age group demands? It's exciting to see the innovations that are now being offered and how customer demands are shaping the future of RV design. One thing is for certain: This new RV living demographic is here to stay.