Features
What's New in POP Displays
New interactive kiosks such as those from Lippert are designed to essentially do the selling for the dealer, taking care of the customer while freeing up staff to work on other things.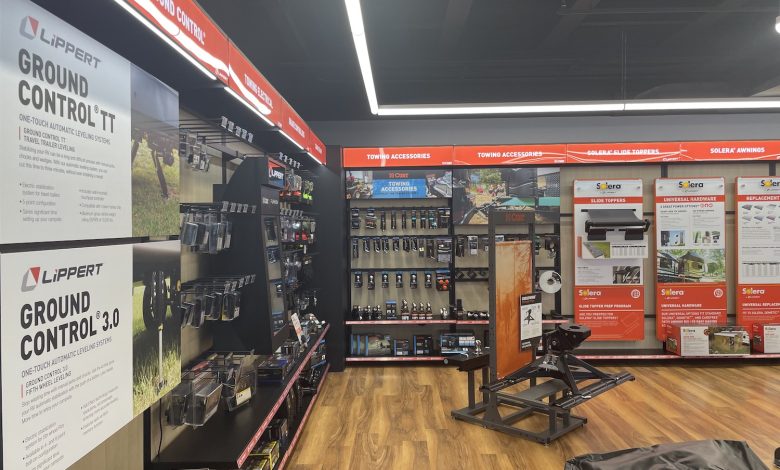 Elevating the merchandising of products at dealerships and offering customers a more in-depth experience are the goals for Lippert's new interactive digital kiosks that will roll out this year.
Jarod Lippert, vice president of marketing and communications, says because the company offers a wide variety of products – everything needed to take an RV out for the first time, spruce it up or do maintenance, he says – communicating with a customer about all the components he or she may need and how to use those products is helpful for not only the customers but also dealers.
"This kiosk is a perfect mix of 'here's all your products in a format you're used to seeing.' You can browse a digital catalog, watch installation videos, product videos, product information – all the information you need to make that decision and walk over to the dealer counter and say 'I want these five things,'" Lippert says.
Value Added
Digital kiosks such as those Lippert will be working with top dealerships to install are an added value for those dealers.
"That's the goal is to drive that sale home for the dealer and add value," Lippert says.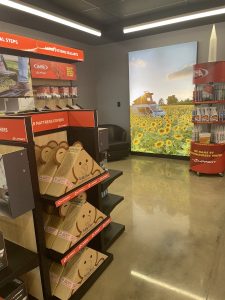 For each dealer partner that adds one of these kiosks to the retail store, a Lippert regional sales manager will help set up the kiosk and train dealership employees on how to use it. All of the updates can be done remotely through the cloud, Lippert says, so the dealer doesn't need to do anything to maintain it – just keep it plugged in and turned on.
"This is a hands-off experience for the dealers, so they don't have to worry about a whole lot," he says.
Upgrading P.O.P. and Packaging
There's no denying that the RV industry's focus in the last couple of years was in "the yard." Moving units was the name of the game and focusing attention on parts and accessories sales wasn't as high on the priority list.
"ROI on P.O.P. and displays is really a challenge to everyone in the industry," Lippert said. "Every supplier faces the same challenge in that we'll go ahead and get the display to a dealer [and then] is it still there a year from now? Has it been moved to the back room? It's hard to keep track of that."
Since a supplier may not be able to guarantee that there is a lot of support available to help sell parts and accessories, Lippert says their objective as a company was to make it easy so a salesperson isn't even needed. That's where the digital kiosk comes in.
The company's displays have always included a lot of content to help customers make decisions, Lippert says.
"We focus a lot on creating that content that lives on our website so they can do as much research as they can before they walk into that dealership," he says. "Our goal has always been to presume that there's not going to be a knowledgeable salesperson, so how can we create a merchandising display that drives the sales home for the dealer?"
Providing the Right Training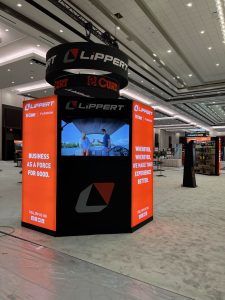 Customer experience is one of Lippert's pillars, Jarod says, so in addition to making sure the consumer gets the knowledge he or she needs from P.O.P. and packaging – in addition to product information and videos online – training for dealers is critical.
"We have a team of regional sales managers where their sole job is to go visit dealerships," Jarod says. "If any of these dealers need training, they reach out to their regional sales manager or, if they don't have one, we'll get one planned."
Lippert also does training on the technical service side. Dealers come from across the country to the company's training center in Indiana for hands-on technical training and how to work with Lippert products.
Recently, the company also started their "scout school" where a handful of RV owners – dubbed Lippert mini ambassadors – are trained on different products so they can understand how to perform service on some components and troubleshoot issues. They are aiming to get users back on the road without having to call a dealer or a service technician, Lippert says.
"That was a really successful scout school – we'll do more of those," Lippert says. "This is all part our customer experience initiative."