Features
Wilson Electronics: Getting RVs Connected
Wilson Electronics addresses the needs of cellular signal boosting technology for mobile environments.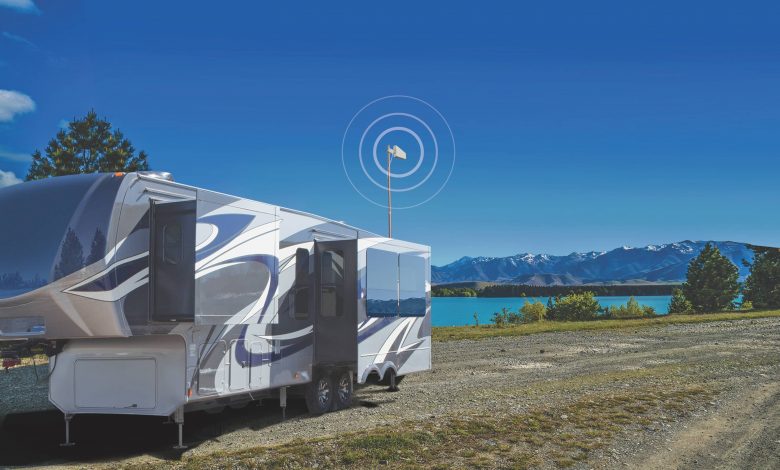 Dealerships know that successfully matching a customer up with an RV hinges primarily upon how they will use that vehicle and what kind of environments they will be camping in. It is equally important to make sure that every RV is outfitted with all the accessories and trappings of home that a customer wants.
Outside of interior décor and home entertainment systems, one of the more significant requests now is connectivity, specifically cellular service. For Wilson Electronics, manufacturers of a wide range of cellular signal booster technology options, connectivity has been front-and-center since 1999, when founder Jim Wilson started the company.
Product Evolution
While primarily focused on cellular boosting technology now, the Wilson name has focused on communications innovations for multiple decades, according to Jon Peckman, vice president of sales at Wilson Electronics. Peckman says Jim Wilson initially formed
Wilson Antenna in the 1980s as a manufacturer of mobile antennas for CB applications. Since then, the company has grown and evolved into Wilson Electronics, with its quest for developing cellular-boosting devices.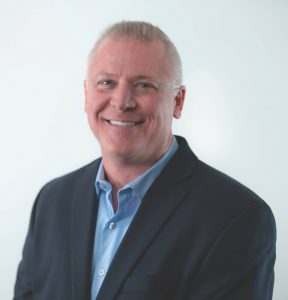 In 2014, the company launched its consumer-oriented brand line, weBoost. In 2015, it added WilsonPro, a commercial-grade brand. Today, the company serves multiple markets, including residential, commercial, trucking, and RV industries, with its numerous product lines.
"I often say that we're one of the best-kept secrets in consumer electronics," says Peckman, suggesting that when it comes to RVers, many consumers might not be aware that there's a solution to boosting their signal on the go.
The process, he explains, is "as simple as grabbing a signal from outside, bringing it indoors – whether that's into a vehicle or a building – cleaning up the signal through our amplifiers, and then redistributing an even better signal than what we found outside (for example) the RV."
The cellular boosting products themselves, Peckman explains, also have significantly evolved in the past decade, pointing to 2014 as a turning point.
"The FCC got more involved in the category at that point," he says. At the time, many signal-boosting products could cause interference with cell towers; some even overpowering the towers and hampering cell networks.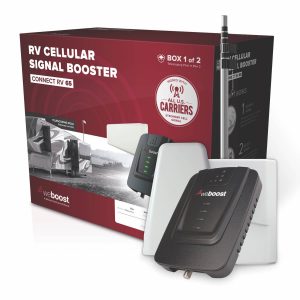 Since then, Peckman says Wilson has worked with the FCC and mobile providers such as Verizon to bring about a new way of going to business and ensuring products are compatible with carriers. Mobile booster products, he says, are now designed so if an RVer is traveling down the road, it will communicate with a tower without overpowering it or causing interference.
Around that same timeframe, closer to 2015, Peckman says Wilson was aware of RV and trucking consumers who were interested in booster options but didn't have the right tools for the application.
"Most times, they were taking our residential products and trying to make it work in a mobile environment, which is a little problematic with antenna placement, as well as moving down the road versus being stationary," Peckman says.
With feedback from online forums and social media and input from RV consumers, Wilson ascertained that the company could develop an application-specific product to meet everyone's needs, from the weekend warrior to the full-time RVer. Peckman says Wilson then strived to begin developing turnkey solutions that ranged from 12 volts of power to 110 volts of power when plugged in at a campsite.
Regardless of configuration, Peckman says that Wilson's goal is to make sure the user experience lends itself to the customer. Ultimately, it makes that solution an easy installation, be it DIY or installed by a dealer.
Good to Know
When it comes to adding cellular signal boosters to a dealer's inventory, Peckman says it's vital to have a basic grasp of the technology.
"The first misconception we get a lot of is that (our product lineup) is for Wi-Fi. Our products are specifically cellular," Peckman says. "But, when you think of the RV applications, many RV users want to be able to bring in their own content and stream it to their TV sets, and that's where we become relevant."
Given that most major cellular networks now offer ample coverage for data and media, consumers will often use their phone as a hotspot, in place of a typical Wi-Fi router, for everything from streaming movies and TV shows to casually surfing the internet.
What's more, many smartphones and smart TVs now offer "beaming" capabilities, which means the user can mirror the content they're watching on their phone onto a TV inside the RV without any additional cables or devices. A strong cellular signal helps ensure users can stream media to their smart TV with minimal interruptions.
And, while Wi-Fi is undoubtedly a prevalent need and technology, Peckman cautions that not every solution on the market will solve an RVer's problem with connectivity.
"We see companies in the RV industry that are bringing Wi-Fi extenders to the marketplace but also providing cell access points via SIM cards," he says, noting that often even with Wi-Fi boosting technology, a camper will find that the network they connect to at a campground will be mediocre at best. "You almost still need our product just to get the best cellular signal into that SIM card. If you're using a SIM card-based product, you need to still get the best cell signal into the SIM card. With our products, it makes the phone a stronger, better device, versus trying to extend a mediocre signal."
Sealing the Deal
In addition to having a grasp of the cellular boosting technology, dealerships that familiarize themselves with booster bproducts' installation process can use it as a "value-added" service for customers, according to Peckman. This could be a more complicated job that involves components like antenna installation. In that case, dealers can provide customers with added confidence that it will be a clean, leak-free install, be it running a cable through a rubber roof membrane, fiberglass, or metal materials.
For marketing the technology to customers, Peckman points to three key approaches: as an add-on to other modern upgrades like satellite TV and solar power, promoted with an aftermarket P.O.S. display, and as an offering that dealers can mention to customers when they come in for a service pickup. Of course, dealers can also combine all three of these approaches for an even more significant impact.
"RV dealers who embrace the technology and who embrace the aftermarket sale can make good money selling the product – but even better money installing that product in the user's coach," Peckman says.
To match a customer up with the right cell booster, Peckman says dealers should qualify the customer. RVers who are predominately stationary, he explains, will want to opt for products like the weBoost ConnectRV65, which takes a residential booster and allows it to be used in a parked vehicle.
"Whether you're docked for a week to a month, it offers the ability to put a collapsible flagpole up with a 25-foot mast, put an antenna at the top of that mast and be able to aim it specifically at the tower of the highest strength from where you're at," he says. "This offers (RVers) the ability to bring more gain through the system and allows them to light up a lot bigger area."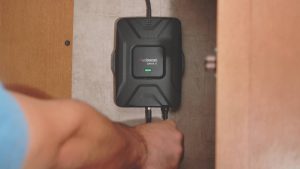 For RVers who are frequently on the go, dealers can match consumers up with products such as the weBoost Drive Reach RV, designed for both moving and stationary RV applications. Peckman also points out that whether RVers are mostly stationary or mobile, dealers can generally still present the benefits of on-the-go technology to both sectors of RVers. He uses the example of snowbirds traveling to Phoenix, where they will largely remain in one place with a steady signal.
"You'll want to ask them, 'when you travel in your RV, how's your cellular connectivity?'", he says.
Quite often, Peckman says, it's en route to the campground where these consumers encounter connectivity issues like dropped calls and weak signals. Outside of avoiding these inconveniences, having a booster in an area where there are weak cellular signals is practical in emergencies.
"The ability to know that your phone is going to work if you need it is a huge piece of mind for someone who's in the middle of the wilderness and not looking at very many people," Peckman adds.
Ultimately, mobile, and stationary use will affect the strength of the signal a user can access.
"If you're stationary, we can provide an even stronger signal than when you're mobile due to FCC regulations around moving vehicles," says Peckman. "It goes from lighting up the cockpit of a coach or interior of a tow vehicle (while mobile) to being able to light up a 10- by 40-foot trailer by having a stationary application, which brings more power to the system's overall design."
Off-Grid and COVID Impacts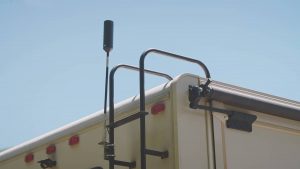 As with many other RV industry sectors, cellular boosting technology has seen a rise in demand in recent times, according to Peckman. He says this increase is two-fold, partially influenced by the growing "off-grid" category of RVers who still need basic connectivity once they set up camp in the wilderness.
"Fifth wheels – and particularly toy haulers – seem to be a big market for many of those people who are getting more remote or going deeper into these areas," says Peckman. "They're using (the booster) in their tow vehicle to get to the location, and then moving it to their actual coach once they're at the location and using it at their tabletop."
In recent months, Peckman says the significant increase of those moving to the RV lifestyle in the wake of the pandemic has also shown a rise in demand for cellular-boosting technology. As many recent reports have found, this demographic includes a diverse set of users, from the traveling family who needs the ability to school their children from the road, vacationers who've traded in air travel for RVing, and those who are working remotely.
"Our market is growing leaps and bounds with the work-from-home culture, and the amount of people trying to get connected in this current environment is crazy," he says. Peckman adds that although Wilson Electronics also services the trucking, commercial, and residential markets, its fastest-growing market is the RV market.
Like RV manufacturers and dealers, Peckman estimates in the last six to 12 months, the average age of first-time RVers has dropped by decades. "It's been really fun to watch and be a part of," he says.