Features
Winnebago – and Subsidiary Newmar – Keep on Keeping Things Fresh
Winnebago and Newmar update their 2023 Class A products with a 30th Anniversary package, a 35-foot motorhome and a National Park limited edition.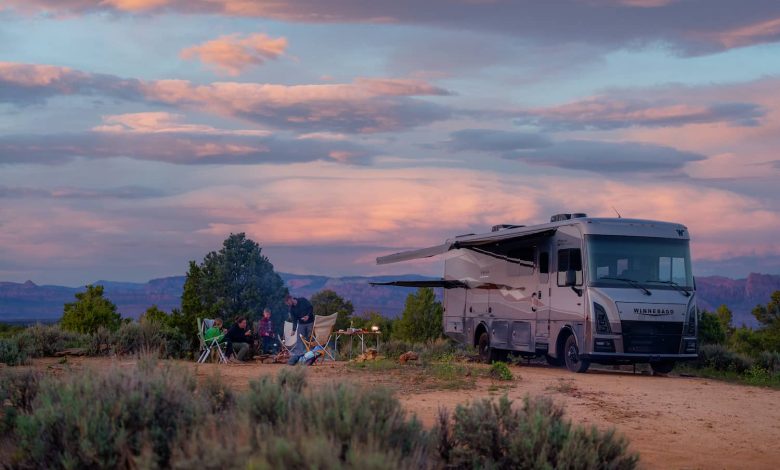 Winnebago Industries and its subsidiary, Newmar, are two names synonymous with quality in the RV world. Their Class A products are known for their luxury amenities and excellent construction.
But even products with great reputations need updates from time to time. That is exactly what consumers can expect from the companies' 2023 Class A lineups.
Winnebago's Adventurer Class A coach celebrated its 30th anniversary with a complete refresh and anniversary package. The Winnebago Vista received an update and released a National Park Special Edition. And the Newmar New Aire released a completely redesigned product and shorter coach.
While the products changed inside and out, one thing remained the same – the companies' quality and attention to detail, which will appeal to both new and seasoned RVers alike.
Winnebago Adventurer Updates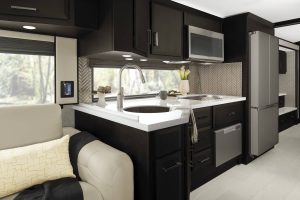 Winnebago completely remodeled the 2023 Adventurer.
"We started with a blank slate and added all-new exteriors and interiors, bus-style exterior baggage doors with aluminum trim and returned the Adventurer to the flagship premier gas unit customers expect," said John Millis, Winnebago's Class A product manager.
Winnebago brought three Adventurers to January's 2023 Florida RV SuperShow in Tampa, Florida – a consumer-facing event for RV and travel enthusiasts. The company displayed an exclusive 30th Anniversary limited edition and one new floorplan, a 34W, at the show.
"We did that so folks could see the difference between the basic package and the 30th Anniversary upgrade," says Millis. "The response was overwhelmingly positive."
The new interior décor offering, called Bohemian Oasis, made a big splash at the show. The contemporary interior features lower cabinets in Indigo Blue and upper cabinets in Pacific White. The galley wows with "a beautiful combination of colors and an accented tile backsplash," Millis notes, and is coupled with attractive Corian solid surface countertops in the gallery and bathrooms.
Millis says Indigo Blue is a popular color in residential kitchen redesigns.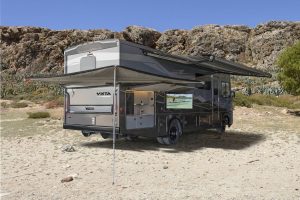 "The two-tone color combination is also very popular, with either white or gray upper cabinets, in the residential world," he says. "We went with Pacific White in our design."
The galley range top offers both LP and induction burners for fast, easily controlled heat. Every Adventurer also comes standard with a 110V residential refrigerator and 30-inch convection microwave.
The lavatory and sleeping accommodations also received a lift in the Adventurer refresh. The coach's bathroom has porcelain sinks and elegant tile backsplashes. The 35F and 36Z floorplans offer a bath and a half. The 36Z's opposing slides make for a very open floorplan, while the shorter 34W features a single bath, a 50-inch TV in front of the dinette, and a sofa with power-recline, heat and massage features.
"We added the single-bath floorplan because we were getting feedback that customers loved the Adventurer but didn't always need a bath and a half," he says. "The 34W is our answer to those who seek a shorter coach without an extra half bath."
The new Adventurer's standard walk-around king bed with available WinnSleep memory foam mattress and a 600-pound weight capacity on its StudioLoft bed ensure a better sleep for all.
"The WinnSleep mattress upgrade made by our StitchCraft furniture division is very comfortable," Millis says. "And the powered Studio Loft bed upfront has been enlarged to 50-by-80 inches to accommodate two adults. There is an optional sofa/theater seat that has power reclining with heat and massage. It's available as an upgrade on any Adventurer, but comes standard on the 30th Anniversary package."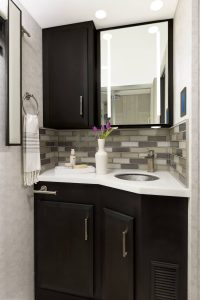 Frameless, dual-pane windows deliver sleek exterior chic while providing enhanced thermal and acoustic insulation inside. There are dual air conditioners on every unit with heat strips in the front and rear.
"We also have factory-installed solar on the roof with a 115-watt-hour panel. There are also available ports to add more panels," Millis says.
All Adventurers have multiple pass-through storage compartments.
"By moving away from the more traditional routed out openings to larger aluminum baggage doors, the compartments are bigger, so there's lots of storage space for longer stays," he says.
Adventurer's 30th Anniversary Package
As Winnebago embarked on a total Adventurer refresh, Millis said they realized the product was celebrating its 30th anniversary, so they decided to offer a special package upgrade as well.
"We came up with a special exterior paint scheme designed specifically for the Adventurer and added exterior chrome accents, meaning all luggage storage compartment handles are chrome rather than black, as are the mirrors and the special aluminum grill at the front of the coach," he says.
Adding a factory installed Safe-T-Plus steering stabilizer and SumoSprings gives passengers a more comfortable driving experience. "They give the overall chassis a better ride and a better feel," he says.
Comfort continues on the inside, with driver and passenger seats equipped with power heat and massage controls.
"You have that extra comfort," he says. "The seats even have 30th anniversary badging embroidered on them."
Every 30th Anniversary Adventurer also comes with Winegard Air 360 Dome Antenna with 4G LTE and Wi-Fi Modem.
"All Adventurers also have a Winnebago Control touchscreen inside that controls the HVAC, mechanical applications including slide rooms, jacks and the awning," he says. "You can control some of these things with an app you download to your smart device."
Vista National Park Edition
"Baby Boomers are still the largest group of buyers for the Adventurer," Millis says. "Those buyers want the larger fridge, washer and dryer, and plenty of storage for longer stays. But for younger age groups or working families, we offer the Vista Sunstar, with shorter floorplans and a few less amenities. These RVers are more likely to be weekend users or going out for shorter camping stays."
For 2023, Winnebago has introduced the Vista National Park edition, which is a limited edition RV offered in partnership with the National Park Foundation.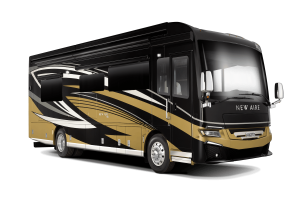 The Vista National Park model will capture attention as it pulls into a campground with a grand mountainscape painting and National Park logo on the side. The special edition Vista carries on its park-related theme inside with a warm, rustic cabin interior.
The RV has a batwing awning that mounts to the back wall of the coach, and when deployed, wraps around to the patio side.
"When both awnings are out, you have more than 300 square feet of awning or canopy space, which is pretty remarkable for a 30-foot motorhome," he says.
The company also updated the coach's battery power. Winnebago replaced the conventional dual, lead-acid batteries with a single Lithionics lithium 320-amp-hour battery.
"This upgrade gives you nearly three times the usable battery capacity for off-grid use when compared to our standard dual lead acid batteries," he says. "We also couple this super-charged house battery with three 115-watt solar panels on the roof and an extra port in the utility compartment to add another aftermarket panel. You can be very comfortable with this coach in a National Park campground or off-grid."
Updates to the New Aire
When Winnebago purchased Newmar in 2019, the company announced the purchase would strengthen its core RV platform and enhance the scale and profitability of its overall motorhome business. The journey started almost five years ago and continues with the refreshed New Aire.
Newmar has offered the New Aire for five years, but it was time for a refresh, says John Sammut, vice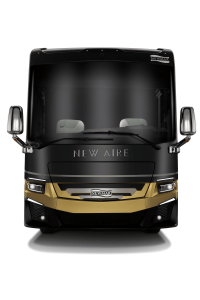 president of sales and marketing at Newmar.
On the outside, Newmar retooled and redesigned the exterior façade, complete with a new front and rear cap, new taillight designs and eye-catching graphics in a contemporary paint color combination. On the inside, the coach has new flooring throughout, a feature ceiling that hides vents without disrupting airflow, new cabinetry and hardware, countertops, slide-out facia designs, new bedding and high-end residential plumbing fixtures.
"This product is a motorhome in a smaller package of 35 feet, 11 inches," says Sammut. "It's also shorter from the ground up. But don't let the smaller package fool you. It has the same luxuries as our flagship motorhome."
The new coach is the company's response to people who sought a smaller size motorhome. Summut explains, "Many people who have been driving 43- to 45-foot motorhomes are looking for smaller motorhome. But they don't want to give up the creature comforts they're used to."
Often those hoping to trade in their larger motorhomes are getting older, so making this new offering lower to the ground made sense.
"The 35-foot New Aire is easier to get in and out of. The entry steps are lower to the ground and the main floor also sits lower to the ground," he says.
"When people see the amenities, technology and innovation this new coach offers, they are pleasantly surprised by all they can get in a smaller package."
It is also easier to park at home or at a National Park with a shorter motorhome.
However, a smaller footprint also does not equate to a sacrifice in technology. The new coach features a Wi-Fi Ranger system that allows owners to get Wi-Fi wherever they are in the motorhome. The coach's Silver Leaf electronic monitoring system controls the lights, window shades, checks holding tank levels and battery power.
The 2023 coach also comes standard with two 340-watt-hour lithium-ion battery packs.
"Lithium-ion batteries have longer life than AGM batteries or cell batteries usually used in motorhomes," he says.
The refreshed coach also has larger monitors on the dashboard, rear vision cameras, top-of-the-line TVs and residential refrigerators.
The manufacturer's new app allows consumers to control features from their cellphones.
"We're finding consumers expect their motorhomes to offer what they have at home," Sammut says. "Many people have technologies that allow them to control things in their homes. They want those features in their motorhome. We are responding to that sentiment."
Radiant heat in the flooring is available if people want it – something Sammut says is a really nice feature.
"People like it because the floor isn't cold when they get up," he says. "If they are RVing in a colder climate, it's really therapeutic and can soothe people's aches and pains."
New Aire's new floor plan, the 3547, offers a bath and a half and a full wall slide, which Summut says came from their dealer groups who said these were changes customers were asking for.
A full wall slide makes it easier to offer so many amenities in a 35-foot length.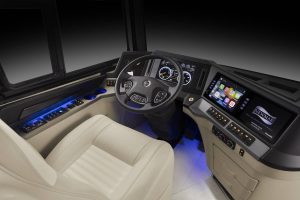 "When you open it up, the motorhome feels larger than 35 feet," he says. "We got a king bed in every one of our floorplans and spacious kitchens with plenty of counter space."
Most units come with a sofa and dinette, but the New Aire also is available with theater seating, which Sammut says has become extremely popular.
"Even though someone can no longer sleep on the sofa, we find many owners travel with just two people and do not need to sleep anyone up front," he says.
There are cup holders and storage in the center console between the theater seats, which sit across from the dinette, which has a televator (a 47-inch HDTV on a power lift that covers the window when it's in use and can be stowed away when not in use).
The new coach also features panoramic bonded windows that are new for 2023.
"It literally looks like one big window going around both sides of the slide room and then across behind the theater seats," he says. "It brings a lot of natural light into the coach, which is something customers have been asking for."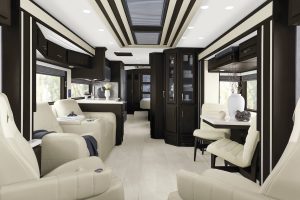 He says the New Aire offers four interior options, which include neutral tones, grays and some blues, which have become very popular.
"When you get into the price point of the New Aire, people expect to have some choices," he explains. "People can choose different wood and fabrics for their interior décor. We allow customers to do some customization and switching out. They could even choose a material from one of our other brands. Many manufacturers do not do as much customization as we do."
Other amenities include extra storage compartments, exterior entertainment centers with a TV and a soundbar, two-stage Girard Nova awnings, Mobile Eye mobilized lane management systems and adaptive cruise.
"We offer a lot of automotive technology that is incorporated into the chassis specifications of Freightliner or Spartan," Sammut says. "The customer and the dealer can choose which chassis to use."
Product lines known for excellence must continually adapt to stay excellent, and that's what Winnebago and Newmar did with their 2023 Class A updates.