Features
Women of Thetford: Rising Up Together
Four women at Thetford tell us how the company has supported their growth, and why they're determined to help bring up generations of women behind them.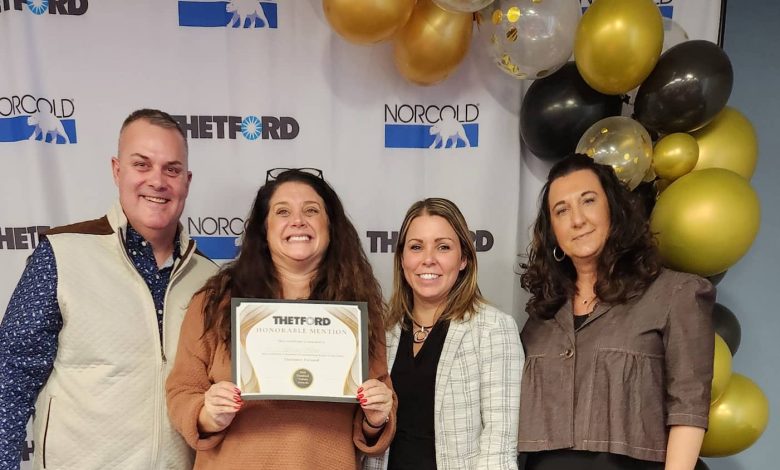 You've likely heard the saying "empowered women empower women." Well, that's not just a T-shirt slogan for the women at Thetford. Without a doubt, leading the charge is Mary Pouliot – a 17-year veteran of the company and current executive vice president, Americas. RV PRO recently spoke with Pouliot and three other Thetford female executives on how Pouliot has carved the path for them, and how they're reaching back to pull up more women along their way.
The four women are:
Mary Pouliot – Executive Vice President, Americas – 17 years in the industry
Alissa Reyes – Senior Vice President of Human Resources and Administration – 3 years
Louaine Larey – OEM Sales Leader – 14 years
Laura Petee – Aftermarket Sales and Marketing Leader – 7 years
How has Thetford fostered an environment that allows women to grow in their careers?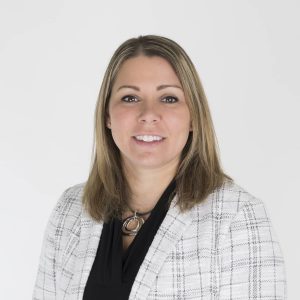 Alissa Reyes
We have 45% female representation in our business. And we have 30% female representation on our plant floor in the U.S., which is kind of high for a manufacturing environment. I wouldn't say we have set out to say 'we want this many females,' but we have, for those that are able to, we have a hybrid remote model. We moved to a 4-10 schedule on our plant floor, so people have a three-day weekend. And a lot of the females we've brought in have been referrals from other females. So, the females that like to work here are saying, 'Hey, come work here.' And so, we create an environment where females can be a mom and grow their career if they want to grow and develop, we have opportunities for that as well.
A great example is Nicole Ing, customer service manager. Nicole has been with the company for 11 years and held positions on the sales team as well as operations. She has a drive to develop her career and seeks opportunities within the company to learn more about all areas of the business.
She is a great talent and respected part of the team.
Mary Pouliot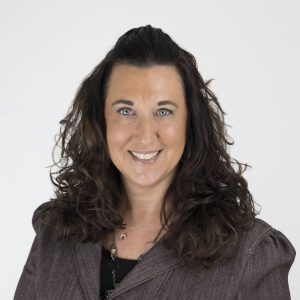 We are about equality, and we want our employees to have the opportunity for growth. Our goal is to hire the right person in the job and from their foster their journey within the company offering development opportunities and growth.
I am a perfect example of someone who took advantage of the development and opportunities from within. I have had four positions, all career growth opportunities. One of the key attractions as a female when I started with Thetford was the work- life balance. I've been here a long time – 17 years. So, I was here when my kids were young. It was never a bad thing that I was a mom. Alissa and I really try to instill that mentality while we're running the business – we want people to feel like they have that balance with work and home.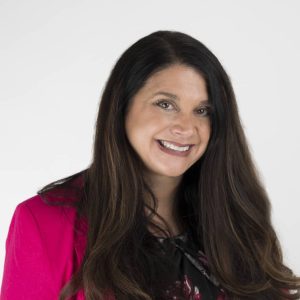 Laura Petee
I think (Mary) paved the way as far as really setting the tone for strong women. She's confident, she's strong, she's smart and takes action. So, it has set the tone for a long time. I think the culture here is one of probably the most equal that I've been in. I've worked at Fortune 500 companies throughout my career and been in the industry a little bit of time. And I haven't been in as many environments where there are as many women at the table. Sometimes you don't even think about the male/female dynamic as much in this organization as I have in the past. There were so many times in the past it would be really obvious I was the only woman in the room. The male voice was being heard before mine, or I had to be careful to temper my emotions – you can't be too passionate as a woman because then sometimes you're seen as being emotional. Here, it's a non-issue.
Louaine Larey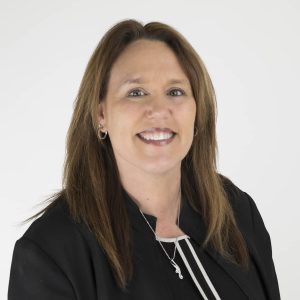 I think Mary, also, not only is she a great leader, but she leads by example. She's never afraid to get into the nitty gritty and help us to succeed. She's always offering good insight and I really think that to be a genuinely good leader, you definitely have to motivate and inspire people. You can tell that she's done that because so many people mirror her. Laura and I are prime examples. We are very similar to Mary in completely different aspects, but very similar to her drive. We really do mirror the good aspects of Mary and see them in ourselves, which helps us to become better at our jobs and be better leaders in our roles.
How do you think others at Thetford create that atmosphere that allows women to shine in the workforce?
Mary Pouliot
I think one of the things that we do very well here, whether you're male or female, is we challenge each other. So, not only do we challenge each other on our daily activities, but we also challenge each other to move ahead. When a job opening comes, we really want to promote from within and we look from within and empower people and encourage them to take those positions. We encourage employees to speak up, get involved and celebrate success.
Alissa Reyes
On our executive team, we have three males on our executive team who are also fathers. And so it's not just a singular practice, but more global. I think too, from a career perspective, we do career discussions with any employee who wants a career discussion. Oftentimes what comes out of those is, 'hey, I want to go lateral. I want to take a step back, or I want to take a step forward.' Or 'maybe not now, but in a few years, I want to be this position.' And we look to see, what are your capabilities now? What do you need to do to get this position? And we come up with individual development plans to help really foster the development to prepare them for the roles when they do come available.
Louaine Larey
I just took over the position I have back in February and the person I took the position from is a prime example – a male. Mentorship is huge; we want to be able to find that person that helps us to become better – whether they're male or female is irrelevant. I don't think we feel threatened by the people that are behind us. We want to actually help them. I think it's a true honor, when I do move on to the next position or the next job, that the person that's going take my place worked for me. I built that person up, but they now are in that position. Within our community, we really do promote within, because we've already built that person to become the next generation or the next person in charge.
Laura Petee
Definitely that investment in each other and that investment in the careers and the career paths of those around you is really important in celebrating successes.
I think we're an organization that definitely celebrates the success of others. You're looking for that next win, encouraging others to find a yes. Those are common themes within the organization. And then, we have flexible scheduling, which is huge – having that ability to be in the office or be at home as needed. I think the company really encourages that home-life balance, which is really important. We have a yoga program. It's little things – we have somebody coming in weekly to do yoga and encouraging wellness and health. It's such a warm and inclusive environment. We're looking out for each other and we're growing each other, and we all wear multiple hats. So many of us are cross-trained doing multiple things.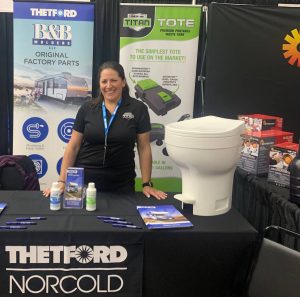 How do you think you have grown both professionally and personally working in this environment?
Mary Pouliot
I think from my standpoint, at least on the professional side, I've been here 17 years and I've had four positions and all of them have been growth positions. You don't typically find that in a lot of industries. So, I think one of the things I really have gained from working at Thetford is personal and professional development, the opportunity for growth, empowerment. On a personal note, we're in a really fun industry and I have made some really good friends that I would consider family.
Alissa Reyes
Prior to coming here, I worked at large corporations and my vision was HR and I had a little bit of insight into the business. Now I'm all business, on all the meetings, and HR is part of my role. But helping manage and run the business and think strategically has been a godsend. Also, there's a lot less bureaucracy, which I love because we can move and make decisions.
Louaine Larey
What I've learned from here is if you can always look at the bright side, like there is a light at the end of the tunnel, then you're going to learn to not only grow both within your career, but you can grow within your person. There's someone right there that's going to help you move forward. That is one thing I have learned while I've worked here: Don't be afraid to lean on your counterparts or your employees. We're a big family here, and we feel that you can lean on somebody. We just keep building each other up.
Laura Petee
In the two years that I've been here, I started as the marketing manager, I took on digital really quick and then I took on sales, and then product management.
I can't say that in another organization in two years I would've been offered so many opportunities and entrusted with those. The safety net we have within the organization and how safe you do feel to try new things, to make mistakes … and having that open and honest communication and that feedback loop. Mary paved the way through the boards and the associations that she's been part of, and being able to step in and get more involved in all those types of things. I feel those are great opportunities for me to grow professionally and personally.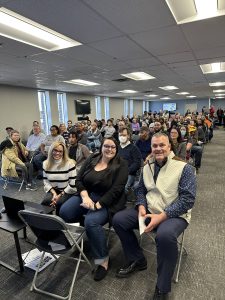 How has the company or managers helped further your career with training or goal-setting?
Alissa Reyes
We have an annual formal performance review for everyone in the company. So that's a performance feedback session.
We do monthly town halls for the whole company. And we do plant floor monthly meetings to communicate priorities, keep everyone up to date on the business, make people feel a part of the business. And there's a lot of opportunities for optional touchpoints. We don't force career discussions, but we encourage employees to have one.
Mary Pouliot
Training and development is encouraged. Everyone in the company sets goals through the performance review process and are encouraged to set a personal development goal. Company goals are communicated and discussed often. Alissa and I do round tables on a quarterly basis with all levels of the company, so that we're sitting down with key individuals at all levels, finding out what their needs are, where do we need to change, and then even be able to have the opportunity to talk about positions and job advancement.
How supportive of women is the RV industry?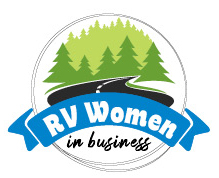 Mary Pouliot
RVWA is definitely at the forefront for all of us. They continually promote and celebrate women in the industry. Seventeen years ago, I typically was the only female in the room, and now it's not that way anymore. Many women hold key positions in the industry. RVTI is promoting all female tech classes. It is a very attractive industry to work in. As an industry, let's continue to not only promote women but promote diversity in the workplace.
Alissa Reyes
RVWA got started a couple years ago (and) the sky's the limit for the future. We should accept the success of it, but we should ingrain it into other groups for more representation. It matches our industry and the fact that our end users of RVs are getting more and more diverse.
Laura Petee
I think the RVWA's done a ton to really encourage women within the industry. Susan Carpenter (has been) pivotal in forwarding the women's networking and mentorship and growth within the industry.
Louaine Larey
You think about RVWA and you think it's only the women involved, but there are so many male allies that are members of RVWA that helped to build us up and help us become who we are within the RV industry. You're seeing a lot more women being celebrated with their accomplishments. We'll agree that everyone needs improvement. I think that we need to do, as women, is to remember the struggles we went through. As the younger generations are coming in, we as women need to continue to be mentors and not let them have to go through the same struggles that maybe we did. It's not just about breaking the glass ceiling. I think the ceiling's got lots of cracks in it and it's breaking. It's more about building an escalator and making it so that everybody has that same opportunity to rise up together.