Features
Xtreme RV: Taking it to The Max
Adding staff and starting an RV rental business has paid big dividends for Idaho's Xtreme RV.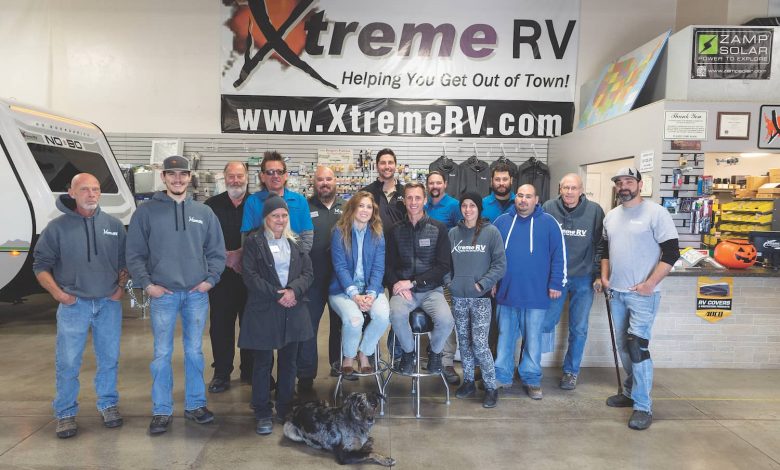 Wayde Stanger has added seven new staff positions and at least as many new hires at Xtreme RV in the past two years, which has helped drive growth at his family-owned dealership in Twin Falls, Idaho. "We were flat and steady," says Stanger, who owns the business. "We did the same amount of business every year and we decided to start putting some growth into it – and we've grown a lot since then." The additional staff and improvements have afforded Stanger more opportunity to "work on business" rather than in it.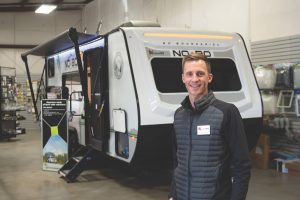 "I can pay the bills in my office, then I can focus on our next steps – what we should we do and how to take better care of our customers. I've been lucky to have great employees and co-workers," he says.
Among the new position hires was a sales manager.
"I had always taken the responsibility of managing the sales team, along with taking care of the books and running the business. Having a dedicated sales manager has been huge – and we're just a small operation," Stanger says.
Despite being a "small operation," Xtreme RV punches above its weight class: It has gone from selling 50 units a year to 250.
In addition to a sales manager, Stanger also hired a shop foreman for the service department, which he says has helped organize the department and improve workflow.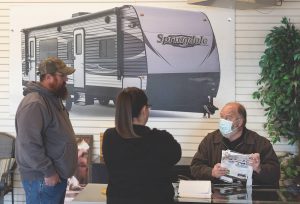 The new employees are "growth focused" in the sales and service departments.
"They opened my eyes as to ways to grow while still taking care of the customers," Stanger says. "I give a lot of credit to my employees because they do a great job and I've learned to rely on them and their experience."
Today, the dealership's staff now numbers 18 – nearly twice of what it had been. On the sales side, Xtreme began focusing on training and processes.
"In the past, we just did what we needed to do in order to sell and be customer-orientated, but when we hired a couple more salespeople it also created some more competition," Stanger chuckles, "which was good for sales."
One for All, All for One
Everyone on Stanger's team has their own job descriptions, but employees at Xtreme RV transcend them and step out of their defined roles when needed.
"If someone sees a customer that isn't being helped, or we're really busy, then everybody here will step away from their 'call to job' to make sure the customer gets the service they need," Stanger says. "I don't even have to ask them – they just do it because it's the right thing."
That attitude has been passed down from his grandfather and parents, who started the family in the RV industry.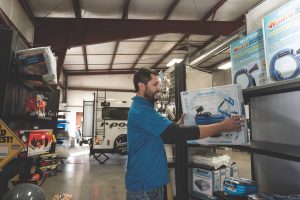 "I feel strongly about that, as well. I'm a pretty easygoing guy who would just as soon want everyone to be happy. And I think that flows to everyone I work with," he says. "Google reviews are good, and we all get praise when we should. But we're not perfect – and I appreciate a little criticism and feedback, too – so it's really good to know what we need to work on."
Xtreme RV has two buildings that sit on 5 acres. The primary building is a 12,000-square-foot facility that features the sales department with two trailers in its showroom, a three-bay service center and the parts department. The second facility is a 15,000-square-foot building that houses rental trailers, a detail department and six bays for long-term service.
The dealership's lot generally carries 150 units, although that number has changed this year during the pandemic, as some manufacturers have struggled to keep up with demand.
"We've dropped down to about 30 units, though we're building our way back up to have at least 150 again for next year, and I'm planning to expand into unused portions of the property. I think we've done well despite the challenges and considering that some dealership's inventories went down to nothing," says Stanger, adding that online sales have substantially increased. "Oregon and California customers have shopped out of state quite a bit this year looking for inventory and specific units."
Of the typical 150 units normally on-site, 100 are new ones, while the remaining 50 are a mix of used and consignment RVs. Among the manufacturers that the dealership carries are Alliance, Coachmen, Cruiser, Forest River and Keystone.
"We've had the Keystone Springdale for a few years and they've become our bread and butter," Stanger says, adding that the RVs are built in Oregon, just one state away. "The quality is awesome and our customers love them. It's also what we use for our rental fleet.
"We also started carrying Paradigm by Alliance because we really like their business model," he adds. "So far, it's been great and they're an amazing company to work with."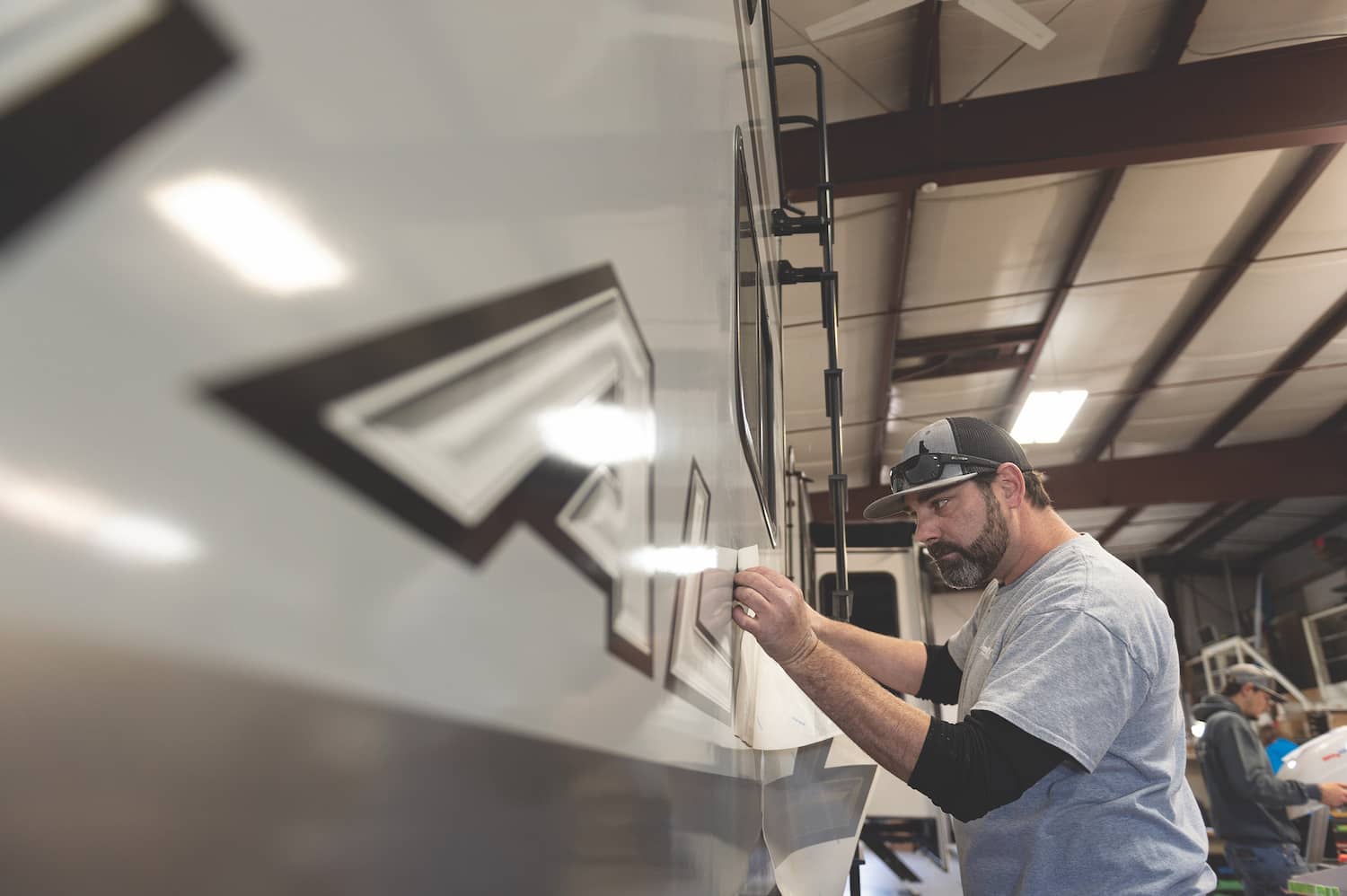 Annual revenues for 2020 are tracking to be $6 million, up from $5 million in 2019. When the COVID-19 vaccine becomes available, Stanger says it weighs heavily on his mind as to whether recent newcomers to the RV life will return to their former recreation ways of travel and leisure.
"All the people who have jumped onto RVing really enjoy it, however. It's just so much fun," he says.
The majority of Xtreme RV's customers come from southern Idaho, and the dealership sits a mile away from Snake River Canyon, which lies just to the north (Twin Falls is known as a "gateway to Snake River Canyon"). Trails along the canyon rim lead to the towering Perrine Bridge, which offers panoramic views and is a popular launching point for base jumpers. At the town's northern edge, Perrine Coulee Falls tumbles over a cliff.
"There's a lot of activity that goes on in Twin Falls. Base jumpers from across the U.S. and the world are always there," Stanger says.
As the dealership's RV fleet has grown, with new units selling off lots in record numbers, he says a near-future market might be in used RVs that will be bigger than normal and that new RV sales will likely become a buyers' market.
RV Rental Business Growing
Those who drive to Twin Falls take advantage of Xtreme RV's travel trailer rentals, a side of the dealership's business that caters to the base jumpers, as well as hunters, among others. Many also use the city as a launch point to adventure in Yellowstone National Park, which lies seven hours to the northeast.
"The rental business started in 2018 as a result of potential RVers asking our sales staff if they could try RVing out," Stanger says. "So, we set up a rental program in which they can rent, and if they end up buying an RV, then we put the rental cost toward the down payment. It makes it a lot easier for people – many of them in their 30s – to give RVing a try."
The COVID-19 pandemic has accelerated the rental business and Xtreme RV has added units to its fleet meet demand. "We were completely booked all summer," Stanger says.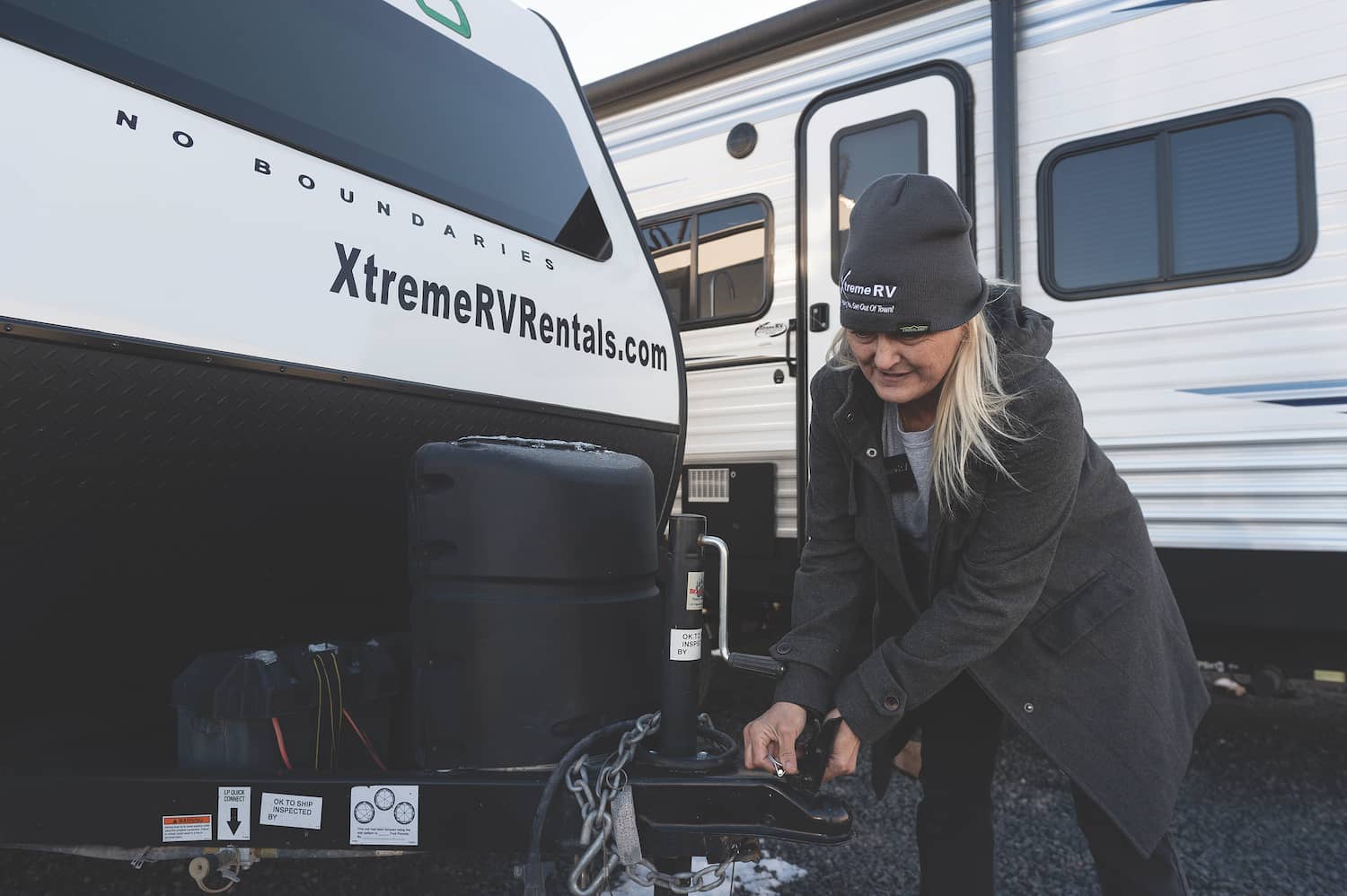 At present, the rentals aren't yet a standalone profit center for the dealership, however.
"It covers its own expenses, at the least, and the rental manager (another new position). I can depreciate them and turn the rentals into used inventory," Stanger says. "For the dealership, it's been very good. Next summer, my goal is to turn it into a true profit center. There's a lot of potential there."
Service on Cusp of Playing Bigger Role
As the number of RVs on the road climb to ever-higher numbers, Stanger is positioning his service and parts department to keep RVers on the road.
"We've recently discussed efficiencies and trying to get more done through organization, as we have a limited amount of space to work in. The technicians definitely have more to do as the customer base is bigger," Stanger says. "And because we're right on the interstate, we have people drop in from who-knows-where that need repairs, so we need to be ready for them, too."
Xtreme RV has two technicians who have been servicing and repairing RVs for 40 years and three more recent techs who came from the Jayco manufacturing plant in Twin Falls. The techs evenly divide their time between warranty (including PDIs) and customer-pay work. The service department keeps on top of factory training and receives training from Dometic and Lippert.
Technicians also perform a few customizations.
"Many RVs don't meet all our needs, so we do a lot additional work," Stanger says. "While we don't do deep customizations, we have taken toy haulers and turned them into sewing rooms, for example. But most of them involve installing solar panels, battery setups and different outlets for C-Paps, racks and hitches."
Randy Liles is on Xtreme RV's sales team, although he goes by the position of "RV Outfitter," as Stanger allows some of his staff to choose their own titles.
"While Randy is a salesperson, he's also a hunter, so he likes the idea of being an outfitter. When hunters come in, he'll get them into the right unit and help them outfit their RVs for their adventures," Stanger says.
To serve its growing customer base, the dealership maintains an average parts and retail inventory of $100,000, supplied primarily through NTP-STAG.
"We sell a lot of Andersen Hitches, located right here in Idaho, who will also assist us in displays," Stanger adds.
Dealerships Roots Run Deep
Stanger's family started in the RV business in 1971, although Xtreme RV didn't open until 2001. His grandparents had bought property along I-84 and built a campground from the ground up, followed by an RV dealership next door in the 1980s, all of which was sold a decade later when they retired.
Xtreme RV was built next to the former dealership by Stanger's parents, employing five staff members for the first few years. It was where Stanger cut his teeth in the business, working part time at the dealership while he went to college.
"I've done about every job there is at Xtreme RV," he says, adding that he was made manager in 2008. In 2013, he and his wife, Melissa, purchased the business from his parents.
His grandparents still check into the dealership at least once a week, according to Stanger.
"They'll stop by to see how things are going, even though they're in their late 80s, because they still love the RV industry," he says.
In the next five years, Stanger says it's possible he will expand to another location, although the situation remains fluid.
"I don't want to grow too much, but another location could happen and we'll do a remodel here," he says. "I'm happy with where we are."