RV News
3 Feathers Mfg. Masters the Trail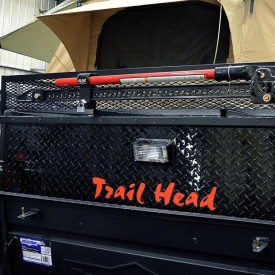 Some people take an axe to a problem. But Mel Sandland, industry veteran and owner of 3 Feathers Mfg., uses a chainsaw. It's a steadfast, rugged answer that embodies the ethos behind the factory-direct manufacturer. The avid outdoorsman is bringing practical, heavy-duty solutions to RVing by building some of the most intimidating towables on the road, like the Trail Head (pictured), which won't be stopped by a fallen tree blocking the path.
"That was the biggest hit in the show," Sandland remarked about the STIHL chainsaw. "People kept asking, 'Does that come with this?' And I said, 'You see this cement right here? Everything sitting on this cement is included.'"
Looking at the 15-foot trailer – bumper to hitch – that's a lot. As far as options goes, a Trail Head might include: an 110-volt furnace; tent top that could sleep up to five people; ladder; Coleman battery lantern; large cooler; shovel; water heater for showers; roof vent; rear kitchen; and anything else an avid camper or hunter might encounter in the woods.
This survival-esque design approach is felt across all of 3 Feathers' units and floorplans, including the recently released Pig – a stripped down version of the Trail Head that does without the insulated interior and windows, opting only for a pop-up tent. To drive home the point of its rugged appeal, there's a decal of a pig with the caption, "I love mud," below it. Naming it the Pig was a marketing move Sandland was particularly proud of when he told his friends while hunting one day.
"Everybody said, 'You've got to be kidding, man,'" said Sandland, laughing. "I said, 'No. Just think about when the guy goes home and tells his wife I'm going to buy a Pig.'"
The owner of the La Grande, Ore.-based company not only knows his market well, given his decades of being informed by other outdoorsmen like himself; but his RV know-how stems from decades in the industry.
Sandland initially began in construction, working on high-rises in California. Then, he was tapped on the shoulder by a friend to work on the, then, newly released Fleetwood Tioga motorhomes. Eventually, he settled on the idea that RVing shouldn't be about taking your home outdoors and avoiding nature. So, what began as cargo trailers 15 years ago soon evolved into a rugged line of six off-road teardrops and utility towables.
"We used the same product as with the high-end trailers out there," explained Sandland. "The same windows, same axles, same doors, same paneling. … It's the same quality materials but condensed."
The quality shows. Currently, Sandland is trying to keep up with orders and works with the Trailer Boss dealerships in Washington. In fact, one dealer asked Sandland if he could keep up with him.
"I've been in this industry 30 to 40 years," said Sandland, "and I've never heard a dealer say, 'Keep sending them.'"
For more information on the Pig and Trail Head, visit www.3FeathersMfg.com.