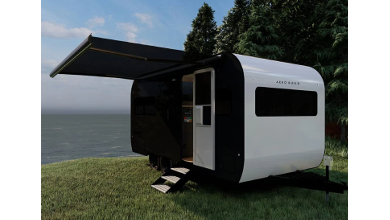 The fully electric and luxury RV 'Coast' from trailer business Aero Build tailors modern travelers who love creative camping or hopping from one city to another all year round. Thanks to the sheep wool insulation inside its cabin, RV Coast stays cool in the summer and warm in the winter, keeping the passengers and the soft-edged box itself warm and well-functioning.
On top of that, and quite literally, RV Coast runs on renewable energy through the five 1,360-watt solar panels on the roof. It also comes with an 810Ah lithium-ion battery bank to power and recharge the ride on the road and includes an electric tongue jack, so unhitching at the travelers' destination is a breeze.
Touching on helping the environment, Aero Build claims that RV Coast uses 50% less water for its shower system and through its water-saving shower head. The toilet has a dry-flush function that can eliminate issues concerning blackwater or sewage.
Upon entering RV Coast, a sitting area slash dining room greets the passengers with its cushioned benches and a wooden table. The kitchen sits just beside it, equipped with functional essentials and an electric stovetop. A cabinet divides the sleeping and gathering area along with a curtain to put in place a sense of privacy. The bathroom is positioned next to the bed, and there is a sink beside the fridge to maximize the space.
To see the rest of the story from forward-looking website DesignBoom.com, click here.
Take a video tour: