News
Aftermarket Survey Data Stresses Importance of Young RVers
This article is from our older website archives. Some content may not be formatted or attributed properly. Please
Contact Us
if you feel it needs to be corrected. Thank you.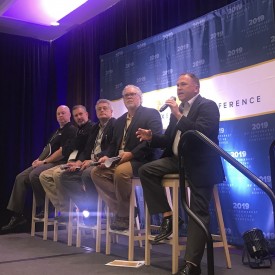 DENVER, Colo. – At the second luncheon during the RV Aftermarket Executive Conference, five leaders of the industry led a discussion panel on the RV Industry Association's latest aftermarket research. Surveying 800 consumers, the research showed that "86 percent of the respondents said that they shopped to replace parts or accessories for their RVs, and 83 percent said they wanted to accessorize or upgrade their vehicles. Eighty percent enjoy looking at fresh new products, while 75 percent also shopped because they like being around aftermarket parts and accessories."
The majority of purchasing, according to the survey, was done online – primarily Amazon. However, 60 percent of the end consumers mentioned going into local RV retail stores and getting hands-on with products first.
"If we're truly going to be responsible to the RV aftermarket, what do you say we go forward a few steps: start at the consumer and work our way back through the supply chain," John Tinghitella of RV Designer said, opening up the panel discussion. "That truly should be what this group focuses on and what we should be all about."
Joining Tinghitella on the panel were the other three primaries behind the 2019 Aftermarket Parts and Accessories Customer Survey: Scott Bahr with Cairn Consulting, Jon White with NTP-STAG, and Garry Weaver with Dealer Resources Group. Bill Baker, RVIA's senior director of research, also sat on the panel.
"I think it's important to keep in mind the other side of the coin," said Bahr. "Fifty-eight percent of people bought from someplace other than Amazon. That's a pretty decently sized market. And even though it seems a little bit fragmented, there's multiple purchases."
"The one underlying theme I think throughout this whole thing is to take a look at (the data) through the lens of opportunity," said Tinghitella. "Our differentiator is that we can be the expert."
The study also showed that the majority of RVers go into the store with a general idea of what they're purchasing. Only three out of 10 people go to browse, and spontaneous purchases occur one out of five times.
In regard to additions and upgrades made to newly bought RVs, four out of 10 consumers mentioned plumbing and sanitation, according to the survey – especially younger RVers. One of the larger takeaways from research was the results regarding future purchase intent. One-fourth of RVers are on the fence, according to the data, with the younger demographic (ages 30 to 39) saying they were least likely to.
"Those people are on the fence," said Tinghitella. "They're not sure. They may or may not stay as RVers. … We feel that this research, and the continuing research that we'll do, helps us get into their heads. Helps us understand their pros and cons and what we can do to keep them as long-term customers."
Baker concluded mentioning that all the data from the 2019 Aftermarket Parts and Accessories Customer Survey would be available online to RVIA members on Monday.
"All of our research shows that more and more young people are enjoying RVs as a way to complement their active outdoor lifestyle," RVIA Interim President Craig Kirby said in a press release. "These findings further confirm that consumers want multiple ways to find parts and accessories that they can use to tailor their RVs to fit their unique experiences."