RV News
Aggressive Deals, New Venue Boost Arrow Show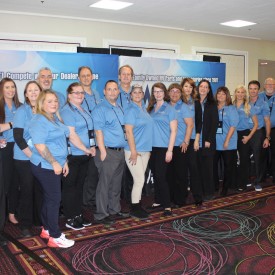 LAS VEGAS – A move from the Gulf Coast to the Las Vegas Strip seemed to provide a jolt of energy to the annual distributor show hosted by Omaha-based Arrow Distributing.
With the larger venue at Bally's, Arrow was able to accommodate more vendors – 120 were showing their wares Tuesday evening and Wednesday – and handle a 20-percent boost in the number of dealers attending the show.
There also were 18 vendor seminars during Tuesday's portion of the show as opposed to 12 the previous year. Those seminars also were offered Monday to help Arrow's staff get fully up to speed ahead of the show.
As of about mid-afternoon Wednesday, sales for the show were higher than had been recorded at the previous year's show, as well.
Arrow's husband-and-wife leadership team of Andy and Andrea Mullin said they were pleased with the turnout and results, especially in light of manufacturers reporting slower sales over the past six months.
"A lot of those are new dealers to Arrow, not just dealers who chose to go the show this year," Andy Mullin said.
"We even had dealers signing up as recently as yesterday to come into the show," Andrea Mullin said. "They are ones that are from this area and wanted to come to the show. So, they drove in and I think they're writing orders."
The Mullins said they weren't necessarily surprised, but perhaps a little relieved to see the show get off to such a strong start with its preview opening Tuesday.
Sales of motorhomes and fifth wheels may have slowed, but that means people are holding onto their existing units longer. Those existing units will need repairs and upgrades, which means the aftermarket could see a strong year.
For their part, dealers also expressed excitement for the new venue as well as the additional vendors and new products offered by traditional vendors.
"I got some new products, and that's what I came for," said Bob Hussong, parts manager of Modern Trailer in Anderson, Ind. "Arrow is my main supplier and they do an excellent job. Their prices are good and they do a good job of getting me the products I need."
For complete coverage of the Arrow show and coverage of the best new products offered at all of the winter distributor shows, keep an eye out for the March issue of RV PRO magazine.