News
Airstream Launches Pottery Barn Special Edition Trailer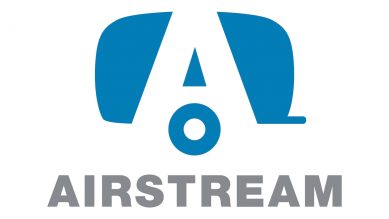 Airstream has launched its new Pottery Barn Special Edition Travel Trailer. The 28-foot Airstream is designed in partnership with Pottery Barn, a portfolio brand of Williams Sonoma, and according to the companies, is designed to be the perfect blend of comfort and style.
In addition to the standard amenities found in all Airstream trailers, including an onboard kitchen, bathroom and sleeping and relaxing areas, the unit is finished with hardware, soft goods, fixtures and touches inspired by Pottery Barn's best-selling collections that "recast Airstream's longtime promise to provide all the comforts of home."
"It's a match that makes sense in many ways," said Airstream President and CEO Bob Wheeler. "Pottery Barn has this kind of magical ability to shape a space. You see it in their home interiors, where there's a comfortable, functional beauty to even the smallest spaces. They understand how your home is this canvas where real life happens, and we love how they applied that to the Airstream lifestyle."
Working hand-in-hand, design teams from each company said they approached the Airstream as a blank canvas upon which to create something fresh and innovative – a travel trailer imbued with the quality and value for which both brands are known.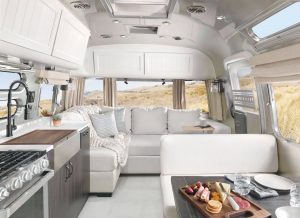 Inside, the coach has custom-made, ultra-soft seating and sofa inspired by Pottery Barn's Big Sur Collection, including a hidden airline-style table in the arm and window coverings made with oatmeal linen Emery Curtain fabric.
The collaboration shines brightly in the kitchen, where Pottery Barn's design instincts led to the inclusion of a solid oak wood dinette table, inspired by Pottery Barn's Benchwright Dining Collection. An heirloom piece, the dinette table is built with oak hardwood, finished with premium materials and designed to last for generations.
Elsewhere in the galley, Pottery Barn brought the allure of their aesthetic in a matte-black pull-down kitchen faucet, a stainless-steel flat apron sink and a solid walnut cutting board sink cover.
The aesthetic continues in the onboard bathroom, where a round vessel sink and a matte-black faucet are complemented by wall sconces. Under the bed, custom storage solutions give owners Pottery Barn-styled options for stowing road trip necessities. The window shades made with Emery Curtain fabric have a residential and soft feel, while the overhead lockers with beadboard paneling were inspired by Pottery Barn's Aubrey furniture collection. Wall sconces round out the interior decor, adding ambiance and charm, the company said.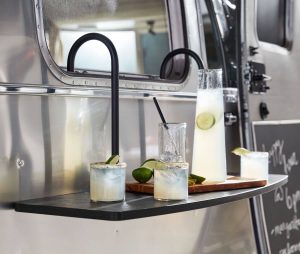 In another design first for Airstream, an outdoor hanging table attaches to the trailer's exterior, creating the perfect place for entertaining no matter the time of day. Pottery Barn also put its signature touch on the exterior awning and accessory kit that comes with each trailer, including a 16-piece Mason Stoneware Dinnerware Set, an Indio Outdoor Folding Table and Armchair Set, a doormat and more.
The Airstream Pottery Barn Special Edition Travel Trailer has an MSRP of $145,500 and is now available at dealers nationwide. For more information, please visit www.airstream.com.