RV News
Alabama Man Wins 'Top Tech Challenge'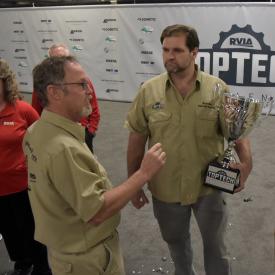 The First Annual Top Tech Challenge wrapped up Wednesday night with a victory for Brandon Galbreath from Alabama-based D&N RV Service. The three finalists, Brandon Galbreath (D&N RV Service), Joshua Bedsaul (RVs Unlimited), and John Larson (Nevada Mobile RV Service) successfully beat out five competitors in the first round on Monday night to progress to the final round Wednesday night where they completed the final challenges.
The competition, sponsored by Airxcel, Dometic, LCI, and Thetford, pit RV service techs with a minimum of five years of experience against each other to determine the Top Tech of the year. Besides being crowned the Top Tech, the winner of the challenge received a Top Tech trophy and was presented with a $10,000 grand prize. Galbreath diagnosed and solved all three stations – troubleshoot a water heater fault, troubleshoot a 12-volt fault and troubleshoot a refrigerator fault – in record time and with accuracy.
Both competitions on Monday and Wednesday were standing room only as National RV Trade Show attendees gathered to watch the challengers at work.
"Troubleshooting and diagnosing problems with component equipment is challenging enough but these guys did it while being timed, with the distraction of loud music and commentary, all under the scrutiny of a large crowd," said Sharonne Lee, senior director, education. "It was fascinating to see the depth of skill and knowledge that these techs possess when it comes to the complexities of RV maintenance and repair processes."
The judges of the Top Tech Challenge were highly qualified RV industry experts in the field of the specific component being diagnosed. The first round with all eight competitors required the techs to rebuild an in-wall slide mechanism, troubleshoot a furnace fault, troubleshoot an air conditioner fault and install a weight distribution system.
"The ability of technicians to properly diagnose and repair our product is vital to the ongoing customer satisfaction of the products and lifestyle we provide," said Jeff Rutherford, president and CEO of Airxcel and chairman of the RVST. "To have the top suppliers of the industry support this event together represents the commitment we all share in the importance of having properly trained technicians. This will be a fun event to showcase the skills needed in our industry and we look forward to continuing to expand the quality and quantity of skilled technicians."
Congratulations to all eight of the finalists who competed in the competition:
• Joshua Bedsaul, Foley, Alabama -RV's Unlimited;
• Robert Browne, Avon, New York – Wilkins RV Inc.;
• Shawn Diamond, Wisconsin Rapids, Wisconsin – Greeneway RV;
• Don Ebsen, Rapid City, South Dakota – Camping World;
• Brandon Galbreath, Joppa, Alabama – D&N RV Service;
• Jason Hunt, Whitney, Texas – Jason's Mobile RV Service;
• John Larson, Minden, Nevada – Nevada Mobile RV Service; and
• Jonathon Senic, Elkins, West Virginia – Roy's RV Supercenter LLC