RV News
'America's Largest RV Show' Draws Long Lines on Day One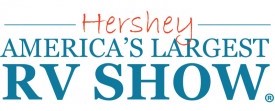 Wednesday is Day One of what's known as "America's Largest RV Show" in Hershey, Pennsyvania.
The 54th edition of the show runs through Sunday and features more than 1,500 RVs and related products and tens of thousands expected in attendance.
Along with every type of RV imaginable, there will be manufacturer's reps on hand, dealers, campground representatives and just about anyone somehow related to the industry. The show kicked off unofficially on Tuesday with local high school students attending Education and Show Preview Day, when they could learn more about the industry and potential careers in it.
Seminars will run throughout the show on topics ranging from RV maintenance to upgrading to solar to safety tips while driving and at the campsite.