News
'America's Largest RV Show Reports Second-Largest Attendance Ever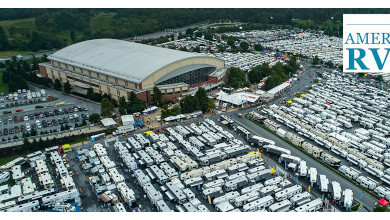 America's Largest RV Show, presented by the Pennsylvania Recreation Vehicle and Camping Association (PRVCA), recorded its second largest attendance ever – 61,320 people. The show took place Sept. 15 – 19 at the Giant Center in Hershey, Pa, and it just missed the all-time attendance record of 64,154 in 2017.
"We are ecstatic that so many people came out to see the RVs, vendors with great products and services, and attend the informational seminars," says Heather Leach, PRVCA executive director. "It is great to see so many people interested in camping and RVing and we are thrilled to have a part in educating them about the products available and provide tips for them as they plan their RVing adventures."
More than 30 manufacturers exhibited more than 1,200 RVs with dealer and manufacturer representatives on hand to answer consumers' questions and help them secure a deal. The show also featured more than 150 vendors with everything from cleaning products and personal care items to camping accessories, RV parts and services, insurance and financial products.
Hershey America's Largest RV Show also offered seminars to help consumers learn about buying an RV, maintenance, safety, where to travel and ideas to upgrade an RV. Husband and wife duo David "Hutch" Hutchison and Shari Galiardi, known as Freedom in a Can, drew large crowds for their sessions on full-time RVing costs and tips for exploring national parks. Cortni Armstrong of The Flipping Nomad had great attendance for her seminar on simple ways to customize an RV, and at her display with the Ultimate Montana. Mike Sokol of RV Electricity also brought in many consumers to learn about electricity and safety, while others flocked to Randy Sobel's sessions with tips on buying an RV and the introduction to RVing sessions from Up Close RV.
PRVCA thanked the 2021 Hershey America's Largest RV Show  sponsors including American Coach, Campspot, Fleetwood RV, Holiday Rambler, Progressive and Thor Industries, platinum sponsors. General RV Center, Jayco, Nomad Internet and Thetford/Norcold, Gold Sponsors. Camping Tools, Escapees RV Club and Lance, silver sponsors and Carefree Coach Rentals & Service, Northern Lite and Wilkins RV, bronze sponsors.