RV News
Antennas Direct Debuts New ClearStream Antenna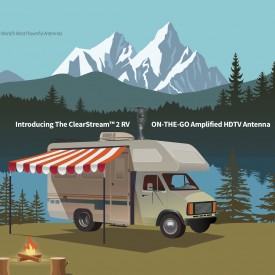 Antennas Direct recently debuted the ClearStream 2 RV Amplified TV antenna, engineered to respond to a greater range of frequencies. The unit comes complete with an adaptive mast bracket, allowing RV owners to replace the existing antenna on the vehicle's elevating mast.
It also features a preamplifier to maximize range and deliver the most reliable UHF/VHF signals through dedicated UHF and VHF multi-directional elements, especially important for areas where signals can be weak or difficult to receive. The ClearStream 2 RV antenna also includes a reflector to focus the antenna's power and provide protection against multipath interference. All installation cables, weather-resistant mounting hardware, and a step-by-step instruction manual are included.
"Liberation is the cornerstone of our belief system at Antennas Direct, and there are few things more liberating than hitting the open road for an outdoor camping adventure," said Richard Schneider, president and founder of Antennas Direct. "But that doesn't mean you have to leave your television viewing behind. … We've been innovating the antenna industry since our inception in 2003, creating the best, most powerful, reliable HDTV antennas for the American people. Today, we're extending this innovation to the RV community, empowering them to take their free broadcast television with them, everywhere they go."
As is the case with all Antennas Direct antennas, the ClearStream 2 RV Amplified UHF/VHF On-the-Go TV antenna is backed by a lifetime warranty (90-day warranty for the preamplifier), and 24/7, in-person customer support online or by phone. An installation video is also available.
The ClearStream 2 RV antenna is an exclusive offer available through Antennas Direct's website with a special, limited-time introductory price of $99.99.