RV News
ARVC's National School Sees Record Attendance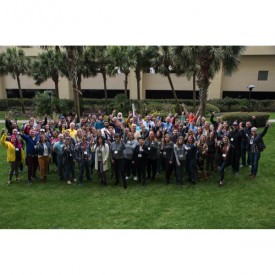 The National Association of RV Parks and Campgrounds (ARVC) has reported record attendance at the National School of RV Park and Campground Management. This year, 85 attendees made the trip to Myrtle Beach, S.C., for the school, which ran Feb. 24-27, learning best practices and management techniques from industry experts.
The increase in National School attendees follows in the footsteps of a record-setting 2019 Outdoor Hospitality Conference and Expo (OHCE) and ARVC's 2019 Industry Trends and Insights Report, which showed the industry is seeing rapid growth and is primed for even expansion in 2020. Attendees at National School came from a large variety of parks and backgrounds, ranging from industry newcomers to veterans looking to find new ways to invigorate their parks.
There were 62 first year attendees and 23 returners. Year One students received an Outdoor Hospitality Management (OHM) certificate, while Year Two students earned their Outdoor Hospitality Professional (OHP) certificate. This year's educational highlights included an increase in activity-based learning, access to online assessments for continuing educations units and a day of park tours at two local ARVC-member parks in Myrtle Beach.
"I was excited to attend National School and benefit from the knowledge of such a wide range of experts from the camping industry. Once again ARVC did not disappoint," said attendee Courtney Miller, the customer service/community outreach specialist for Parks Management Co. "The classes were informative and fun, and the connections and discussions with others were an added bonus."
"We are thrilled with the success of National School and OHCE this year and will continue offering industry-leading education and networking opportunities to our members and those in the outdoor hospitality industry," said Paula Horwitz, ARVC's executive director, education and events. "We are also especially excited for the new educational opportunities that we are debuting later this year."
The newest education experience available as part of the ARVC Online Education Portal is the NFPA 1194 Completion Certification class, previously offered only at OHCE, which will now be offered on a year-round basis.
Also new this year, ARVC will debut its Prospective Owners Workshop from May 4-6 in Colorado Springs, Colo. The event includes three days of classes, discussions and park tours geared to prepare individuals for park ownership.