News
ASA Gets to Heart of RV Electronics with iN-Command
This article is from our older website archives. Some content may not be formatted or attributed properly. Please
Contact Us
if you feel it needs to be corrected. Thank you.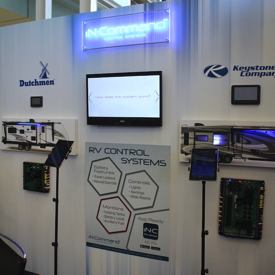 In his years with the company, ASA Electronics President Brent Barrow has watched the company reinvent itself "many times over."
In the swift current of the electronics sector, companies keep moving or risk being swept to sea, and ASA's transformations are a testament to the Elkhart-based stereo and electronics supplier, which turns 40 in 2017.
"Over 40 years, markets change and product lines and product categories change, technology has changed and we're definitely a high-tech electronics company," Barrow said at the National RV Show in Louisville, last week, where the company also debuted new-look branding.
While treading water poses a risk to technology-driven companies, advancing ahead of the market can be just as dangerous. Making a splash as the first adopter of new tech isn't part of ASA's identity, Barrow notes.
"We're following technology trends like everyone else, but we're more early-adopters," he said. "We're very leading edge, but not bleeding edge."
For the past three years, the company has developed its RV-specific iN-Command Control Systems, consisting of a body control module, through which the RVs moving parts are routed and managed at an in-wall user interface or smart device.
Depending on the RV, the hub might consolidate control and monitoring of on-board functions such as lighting, slideouts, jacks, levelers and tank levels, to name a few possibilities.
During the past year, the supplier continued development of the system through an exclusive partnership with Keystone, Dutchmen and CrossRoads, and three months ago, ASA introduced its latest generation of upgrades. Next fall, ASA will again widen its product offerings, providing systems that are desired by the entire OEM customer base.
The trend toward interconnected devices has grown increasingly common in other consumer sectors, such as the automotive and residential sectors, where smart devices link to the Internet to provide users control.
"That's the trend, and it already exists," Barrow said. "We've taken the trend and made a very specific product for RVs. But what is an RV? It's a home on wheels."
Electronic connectivity is not new to RVs, where in-wall control panels, smartphone apps and Bluetooth remotes offer users some level of control, and while iN-Command utilizes much of the same technology, it is designed to provide control over any electronic function in an RV.
Rather than make a different body control module to fit the needs of each floorplan, ASA designed the body control module to accept wiring input from a variety of components, allowing one module design to be applied to a wide number of floorplans. Instead, ASA provides the OEM with software customized for the body control module.
While the modular hardware makes scalability to a wider variety of RVs more feasible, the key to success of the product – for both the existing OEM partnership and the pending 2017 rollout – is manufacturer adoption of a unified wiring schematic, according to Barrow, who notes that wiring within RVs often varies from plant to plant, and sometimes varies from one worker to the next within the same plant.
"That (the irregular wiring) makes for a troubleshooting nightmare on the back-end, so we've gone to a uniform wiring code, and that's one of the main requirements for troubleshooting issues," he said.
The RV industry may have lagged, historically, behind automotive markets in its eagerness to interconnect RVers with their devices, but it's not for any lack of consumer demand, Barrow contends.
"I talk to a lot of dealers, and we see in the forums that people want more connectivity, and dealers are not afraid to sell to tech-savvy customers," he said. "The old adage that these are old buyers that are not technical is not true. … That 70 year old, who, at 60 wasn't tech savvy, is (today). … Even if they're a little late to the party, they're getting these products."
It's not just consumer feedback influencing Barrow's perspective, either. Suppliers, too, are already implementing the technology, and are poised to deliver more.
"By the fall (Open House) show next year, it will be pretty amazing how much control will be in a coach," he said.