News
Asian Steel Propane Cylinders Face Raised Duties
This article is from our older website archives. Some content may not be formatted or attributed properly. Please
Contact Us
if you feel it needs to be corrected. Thank you.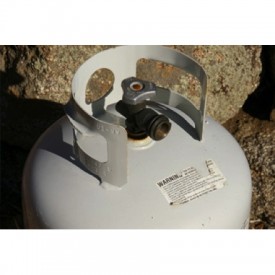 Imported steel propane cylinders, including the nearly one million used by the RV industry each year, are under investigation by the International Trade Commission (ITC) and the U.S. Department of Commerce.
The investigation was brought by the two companies comprising the domestic steel cylinder industry, Manchester Tank & Equipment and Worthington Industries, to determine whether steel propane cylinders from China and Thailand are being dumped in the U.S., and if producers in China are receiving unfair subsidies. The conclusion of the investigation could result in a 27 – 122 percent combined antidumping (AD) and countervailing duties (CVD) applied to imported steel propane cylinders from the countries in question.
Last week, Mike Ochs, RV Industry Association's director of federal government affairs, testified before the ITC on the RV industry's use of steel propane cylinders. Ochs stated that the industry has historically been reluctant to source domestically due to capacity and quality concerns.
RV manufacturers estimate that, under current conditions, domestic production of steel propane cylinders would only be able to supply 25 – 40 percent of the amount needed by the RV industry. When the industry has sourced propane cylinders domestically, such as during the West Coast ports dockworkers strike a couple of years ago, the delivery times were not only double, but many cylinders had to be returned for quality concerns such as bending and denting. Ochs urged the Commission not to grant the antidumping and countervailing remedies which would damage the American RV industry.
According to the Department of Commerce, both Commerce and ITC will conduct its own investigations into whether the U.S. industry and its workforce are being harmed by the import of steel propane cylinders.
The ITC will make its preliminary determinations on or before July 6. If the ITC determines that there is injury or threat of injury, then Commerce's investigations will continue, with the preliminary CVD determination scheduled for Aug. 15, and preliminary AD determinations scheduled for Oct. 29, unless these deadlines are extended.
If Commerce determines in its preliminary finding that dumping and/or unfair subsidization is occurring, then it will instruct U.S. Customs and Border Protection to start collecting cash deposits from all U.S. companies importing steel propane cylinders from China, Taiwan and Thailand.
Final determinations by Commerce in these cases are scheduled for Oct. 29 for the CVD investigation, and Jan. 14, 2019, for the AD investigations, but those dates may be extended.
If Commerce finds that products are not being dumped and/or unfairly subsidized, or the ITC finds in its final determinations there is no harm to the U.S. industry, then the investigations will be terminated, and no duties will be applied.