RV News
Battle Creek, Mich., Show Starts March 1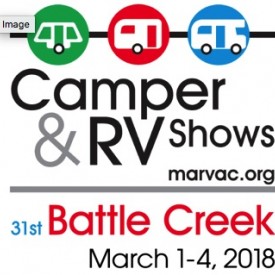 The Battle Creek, Mich., RV show will be held March 1 to 4 at the Kellogg Arena in Battle Creek.
Hours are 11 a.m. to 8 p.m. Thursday and Friday, 10 a.m. to 8 p.m. Saturday and 11 a.m. to 5 p.m. Sunday.
More than 50 units and 15 brands will be on display, ranging in price from $6,995 to more than $100,000.
Exhibitors featuring parts and accessories, campground information, on-site RV financing and RV rentals make this the complete RV show experience. Consumers can pick up the 2018 Michigan RV & Campgrounds directory.
For more information, visit www.marvac.org.