News
Blacksford RV Rental Hopes to Disrupt Industry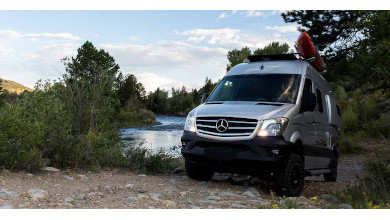 (Image provided by Blacksford)
Bozeman, Mont.-based Blacksford is a new RV rental business offering fully-stocked Mercedes-Benz Sprinter overland adventure vehicles from Winnebago with an all-inclusive pricing model that includes unlimited miles, no generator fees, offering bedding, bath, and kitchen supplies, free Wi-Fi, a free annual pass to national parks, and 24-hour roadside assistance.
Founded by tech entrepreneur Jonathan Distad, Blacksford also curates road trip experiences by connecting travelers with vetted campsites, guides, and other hand-picked attractions. In addition to daily and weekly rentals, Blacksford offers multi-month mini leases for those who want to truly experience van life. Rental prices start at $199 per day.
Currently available at airports in Las Vegas and Bozeman, Blacksford has plans in place to expand into a dozen or more airports over the next two years, including Denver International Airport in July 2020. Blacksford said it is the only RV rental business based exclusively out of airports, and its RVs can be booked via Outdoorsy.
"From the seamless online experience to our fully-stocked vehicles and all-inclusive prices, this is what the RV rental process should be like," said Blacksford RV Founder Jonathan Distad. "We greet you at your airport gate, load your bags, onboard you virtually so you don't have to spend hours getting to know your RV, and offer 24-hour roadside assistance. Our RV rental process is easy, and there is no nickel-and-diming like so many of our competitors."