News
Blog: Is a Changing RV Market Good for the Camping Community?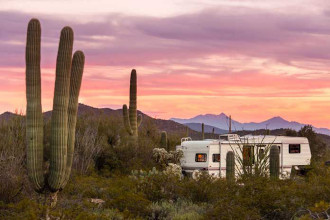 The author runs OutdoorMiles.com, a website focused on RVing, camping and other aspects of outdoor recreation.
In two years, the RV and camping industry experienced an unprecedented surge in interest. RV manufactures have shipped more RVs than any other time in history and have billions of dollars in backorders. As a result, campground availability is at an all-time low, with millions of new campers now seeking out accommodations. A recent report by Kampgrounds of America (KOA) indicated that over 10 million households camped for the first time in 2020, a record-breaking 25 percent increase from pre-pandemic numbers. Ancillary markets that support the RV industry have also struggled with material shortages and supply chain disruptions.
Industry profits are at an all-time high, and demand will remain strong. However, consumers are feeling the pain of supply and demand. The costs for camping are increasing while the availability of vehicles, equipment and accommodations remain limited. As new RVers enter the market, can the current infrastructure support this surge? Also, are the changes in the RV and camping markets good for the end-user?
Immediate stresses to the market are creating real challenges for the RV enthusiast. However, the current problems may have a silver lining. As demand for equipment and services increases, so will investment and innovation. This response will likely result in a net benefit to the camping community.
Examples of this response are not hard to find and can provide hope to those struggling with the shortages in the market. RV manufactures have demonstrated their resiliency, fighting through lockdowns, worker shortages, and supply chain disruptions. As a result, the manufacturers are building more RVs than they ever have before. Campgrounds are expanding, and new ones are under construction. Governments are also responding to the demand, reinvesting in crumbling infrastructure and building capacity to meet the growing demand. Innovations in technology and services supporting the industry are also at an all-time high.
The recent surge in camping has created the demand before the supply can catch up. However, when it does, and it will, the RV and camping community will be left with better services, more campground options and innovative solutions by manufacturers and industry partners, delivering products and services that better align with their needs.
The full article on the challenges facing the camping community and solutions to solve them can be read here.
Tom Davidock is with OutdoorMiles.com and he can be reached at 610-823-4616 or at [email protected]