News
Boats and RVs: Parallel Paths, Parallel Challenges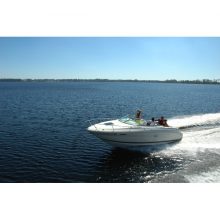 Writing for the March 2021 issue of Soundings, Matt Gruhn, president of the Marine Retailers Association of the Americas, points to some remarkable similarities in the current states of the RV and marine industries.
Nearly 20 years ago, when I first walked into the trade side of the marine industry, one of the first and most memorable conversations I had was with a supplier who opined that boat dealers were some "20 years behind auto dealers and 10 years behind RV dealers."
This theory – that boat dealers somehow lack the sophistication, professionalism or some other intangible quality that's present in other industries ­– has been repeated to me several times over the years. I don't care for it, I don't necessarily believe it, and I've pretty much made it my career ambition to prove the theory wrong. Or to fix whatever perceived deficit there may be, if in fact there's any truth to it.
The RV and marine industries are, without a doubt, linked. As recreational, enthusiast-based industries, the major unit retail locations seem to parallel one another in gross margins, net profits and most of the other major benchmarking numbers offered by companies such as Spader Business Management, which tracks dealer performance in both industries.
To read the full article from Gruhn, click here.