RV News
Bontrager and Wilkins to be Recognized at RV Industry Awards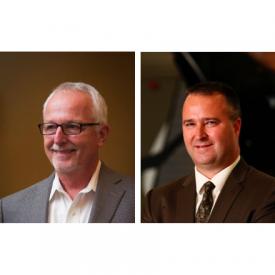 The RV Industry Association will honor Derald Bontrager of Jayco and Brian Wilkins of Wilkins RV in Bath, N.Y., with the organization's top awards during a special RV Industry Awards event, taking place during the National RV Trade Show at 7 p.m. on Wednesday, Nov. 29, in the Mercury Ballroom in downtown Louisville, a couple of blocks from Fourth Street Live.
Bontrager will receive RVIA's "Distinguished Service to the RV Industry Award." This is the association's highest honor, presented to an individual within the RV industry who has set himself or herself apart by outstanding service. As one of the most successful and respected executives in the RV industry, Bontrager is being recognized for his extensive service to RVIA and for his tremendous success at the helm of Jayco.
Wilkins will be honored with the "David J. Humphreys Industry Unity Award," which is presented jointly by RVIA and RVDA. This award recognizes an individual who continuously strives to encourage the multiple constituencies of the industry to work collectively for the growth and betterment of the industry. During his time as RVDA chairman, and in other leadership positions, Wilkins has worked diligently to strengthen the bonds connecting RV dealers, manufacturers and suppliers.
The inaugural RV Industry Awards will bring the RV industry together for an evening of recognition during the National RV Trade Show to honor the companies, people and vehicles that showcase the industry as dynamic, innovative, inspirational, and customer-service focused.
The event, sponsored by Kampgrounds of America, also will feature the presentation of RVDA's Titan Award to Bob Tiffin of Tiffin Motorhomes, RVDA's Dealer Satisfaction Index Quality Circle Awards, and RV Business magazine's "RV of the Year" award.