RV News
British Columbia Dealers Rally to Help Wildfire Victims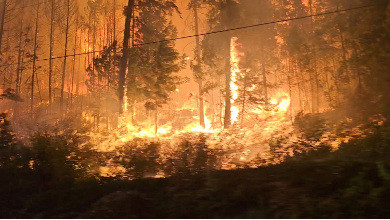 Image courtesy of Rueters
Wildfires in Canada this year have been extreme enough that many parts of the U.S. have been affected by the smoke coming over the border. RV dealers in Abbotsford, British Columbia, a city not far across the border from Washington state, are pooling to raise money for fire victims in their region. The local news outlet has the story.
Three Abbotsford-based RV companies have set a goal of raising $500,000 to help those across B.C. impacted by the recent wildfires.
Fraserway RV, Travelhome RV and Four Seasons Rentals have launched the initiative to raise funds for on-the-ground organizations – such as the Red Cross and Samaritan's Purse – working directly with people affected in the Okanagan and Shuswap.
The three companies have launched in-dealership promotions, dollar-for-dollar employee contribution matching programs and corporate donation initiatives.
Additionally, Fraserway RV has kept its Kelowna dealership open to provide service to affected individuals looking for temporary housing options with RVs for their families.
As well, the company, through its Four Seasons rental location in Abbotsford, has made available several rental units to wildfire evacuees at a 50% discount.
James Epp, president and owner of Fraserway RV, said the companies' "hearts are with the people and communities adversely impacted by these devastating wildfires."
Click here to read the rest of the report from the Abbotsford News.