RV News
Campers Inn RV of Raleigh Breaks Ground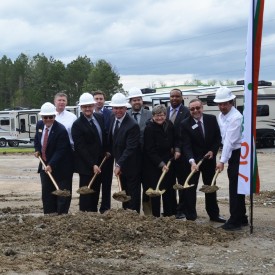 Campers Inn RV has started construction on a new dealership with an RV showroom and repair facility. The project is expected to create 50 to 60 new jobs in the area, and it will increase support for RVers in the Greater Raleigh, N.C., area, as well as those traveling on I-95.
"We are excited to begin work on our new RV center in Selma," said Larry Peter, VP of southern operations, Campers Inn RV. "This dealership will allow us to provide RVers with the best quality products and most skilled service team in the market. We are glad to support the Smithfield-Selma community, especially the military families living on the bases nearby."
Campers Inn RV of Raleigh was opened in 2016, and it has operated out of temporary buildings while preparing for the expansion. The new 30,000-square-foot facility will feature a large RV showroom and 12 state-of-the-art service bays. The dealership will sell RVs from manufacturers like Tiffin Motorhomes, Winnebago, and Forest River RV.
The project is scheduled to be completed in the fourth quarter of 2018.
The groundbreaking ceremony was attended by members of the Campers Inn RV team, Selma Mayor Cheryl Oliver, and the Greater Smithfield-Selma Area Chamber of Commerce.
"The Chamber wants to thank Campers Inn RV for making an over $6 million investment and adding over 60 jobs to our communities," said Mike Mancuso, president and CEO of the Greater Smithfield-Selma Area Chamber of Commerce.