RV News
Chesaco RV Steps Up for Breast Cancer Awareness Month

Chesaco RV in Maryland has an ambitious goal of raising $50,000 in October for Breast Cancer Awareness Month.
The company usually does something special for this month each year, Marketing Manager Laurie Robb said. Given the chaos and complication that is the time of COVID-19, the company decided to take a very straightforward approach this October and donate $250 for every RV sold during October to the MedStar Franklin Square Medical Center in Baltimore.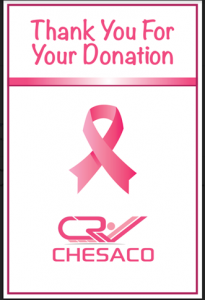 "With every unit sold we have placed a sticker on it saying, 'Thank you for your donation,' along with a breast cancer ribbon and our logo," Robb said.
Chesaco, which claims to be Maryland's largest RV dealer, has three locations in that state – in Joppa, Frederick, and Gambrills – and a fourth in Hamburg, Pa.
Any units sold at any of those stores will go toward the cause, Robb said, as will any sold at the company's Mid-Atlantic Virtual RV Show, an online sales event Chesaco is putting on this month.
"This has been our first one but so far we're seeing some good success," Robb said of the virtual event.
She said Breast Cancer Awareness Month is important to the staff at Chesaco's because many of them know someone who has battled it. And, "We actually had a couple of customers share their stories," she said.
Aside from the monetary donation to the medical center, Chesaco RV also had polo shirts printed up for all of its staff to wear to express their solidarity in the fight.