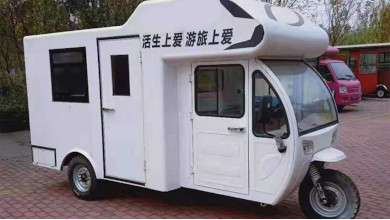 Full-fledged motorhomes are usually hulking in size, and that's rightfully so since you should be getting a large usable living space at the back when going for a road trip. But every once in a while we see very compact campers fit for solo or couple adventures.
We're talking about really compact ones, like the Bufalino three-wheeled camper concept that sleeps only one person, or the Elektro Frosch camper scooter from Germany that brings your tent by the bed.
But if you're looking for the latter but want a more sheltered space at the rear, Alibaba, the Chinese e-commerce site, may have something for you.
Introducing, the Everbright three-wheeled electric RV from China, sold by Shandong Everbright Foreign Trade Co. Ltd. It may look like an odd-looking box fit for a food cart business at first, but it actually has practical things to offer.
To read the full story from Jacob Oliva at Motor1.com, click here.
Measuring only 3,800mm (150 inches) long and 1,500mm (59 inches) tall, this tiny RV can haul things for a pair and sleep them for the night. The foldable bed folds on top of the dining area, while there are storage spaces underneath.