RV News
Chinook RV Announces Open House Events

Chinook will be hosting both current and prospective dealers at its facility during Open House Week, Sept. 26-30.
The company's week-long open house will feature tours of its manufacturing facility and lunch and other refreshments provided. Chinook RV is located in Peru, Indiana, just a short drive from Elkhart.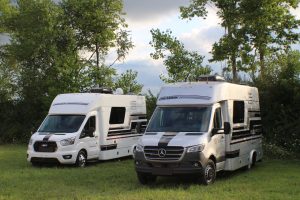 The company is especially excited to introduce its new Maverick B+. The Maverick B+ is built on the Ford Transit Chassis with all-wheel drive, the 3.5L Eco-Boost Turbocharged engine and a 10-speed transmission. The company refers to it as "the sports car of RVs," as its goal was the deliver quality and style to the Class B marketplace.
Similar in construction to the company's Summit, which is built on a Mercedes-Benz chassis, Maverick uses the best foundation and construction techniques, the company said. This includes a welded two-inch-by-four-inch tubular steel substructure mounted on rubber isolator pads, a one-piece, three-quarter floor decking with a layer of sound dampening and insulating Hush-mat on the bottom, then a fiberglass moisture barrier. The sidewall construction is welded together with rolled aluminum two-inch-by-two-inch wall tubing with thick block foam insulation.
Both the Summit and the Maverick use the Truma combi-plus furnace and water heater combo that have been rigorously tested to ensure four-season capability.
Chinook's facilities in Peru will be open from 8 a.m. to 4 p.m. every day that week. Email your R.S.V.P. to Seth Buchheit at sales@chinookrv.com.