RV News
Clear2O Releases Inline RV Prefilter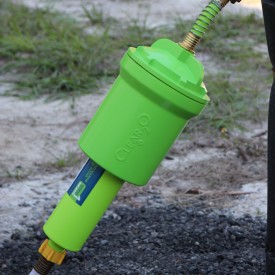 Clear2O has released an inline RV prefilter, the DirtGuard Sediment Prefilter, intended specifically for high-sediment areas. The patent-pending Clear2O DirtGuard removes filter killers so that the carbon filter can subsequently take care of the smaller particles it was meant for, according to the company.
In doing so, it can help extend the life of the RV's carbon filter by preventing the sand, silt, sediment, and rust from being trapped in the carbon filter or causing buildup within the RV piping. It also can help the carbon filter maintain higher water flow rates throughout its life, according to the company.
DirtGuard was designed by Keith Bernard, CEO of Clear2O.
"By incorporating the DirtGuard prefilter to the existing online carbon filter, the user is essentially creating a two-stage RV filter system," said Bernard. "The prefilter creates a 20-micron, physical barrier to block sand, silt, sediment, and particulates from entering the carbon filter. This allows the carbon filter to perform its intended function, which is focusing on the taste, color, and odor issues.
"This is critical, because any sand, silt, or sediment entering the carbon filter can potentially coat the carbon, sealing around it and creating a barrier between the carbon and the water. This would allow contaminants to pass through the filter untouched."
The Clear2O DirtGuard is capable of working with multiple inline water filter brands. The DirtGuard has a rigid 20-micron filter made of high-density polyethylene, known for its stiffness, strength, toughness, resistance to chemicals and moisture, as well as its light weight and lower environmental impact. This resilient material helps lengthen the life of the filter, as well as allowing it to withstand harsh outdoor conditions and providing it with a higher dirt-holding capacity.
Installation is aided by the product's lid design ridge, which makes DirtGuard easier to grip and open, according to the company.
The DirtGuard Sediment Prefilter, which includes a filter, wrench and hose, is $34.99. It will be available in spring 2020.