News
Coronavirus Slows RV Aftermarket Supply Chain
This article is from our older website archives. Some content may not be formatted or attributed properly. Please
Contact Us
if you feel it needs to be corrected. Thank you.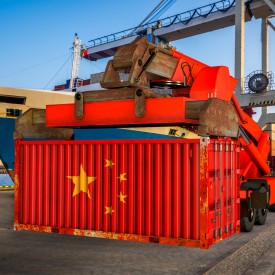 Several RV aftermarket suppliers and distributors have confirmed that the recent novel coronavirus outbreak – more specifically, 2019-nCoV – is likely to cause a 30- to 60-day delay in shipped goods. Of course, this depends on how much is outsourced to China where the virus has infected more than 75,000 and where the death toll recently reached 2,004.
Experts said that the outcome could range from a pandemic to a regular occurring flu. The symptoms can vary anywhere from a runny nose to severe health issues to fatalities. The peak of the outbreak occurred right as many Chinese citizens took a break from production (about two weeks) and traveled across provinces. This, in turn, escalated the halt in goods being shipped from the country. Progress, however, is being made, according to state news Xinhua.
Wayne Kaylor, partner and president of WAY Interglobal, recently told RV PRO that 20-30 percent of employees returned to their overseas factories and that more factories are due to come online next week.
"We're hopeful but concerned," said John Tinghitella, president and owner of RV Designer. "There might be some glitches along the way in the supply chain. The next 30 days will be crucial."
He mentioned that if the current lockdown is in place in 90 days, and not enough employees have returned to work, that the industry should ready itself for a real drought.
"There could be a disruption in the RV industry, I believe, because that will coincide with the kickoff of the high retail season," said Tinghitella. While everybody does their best to bulk up in preparation, there's this expectation that there's a steady supply chain flow."
But should there be a disruption, many companies will not be ready.
"Over the years, the Chinese have spoiled us," he continued. "They programmed us to realizing that they're really good at what they do."
Mike Keller, president of Keller Marine & RV, shared similar sentiments, explaining how two of the companies he's worked with worry what the next 30 days will reveal – the potential impact on the aftermarket and OE side.
"(They) were saying that (the company) was really concerned about just not having the product due to the lack of labor in China," said Keller. "And I thought it was going to be more related to containers in quarantine."
Currently, delays in dry bulk and container shipments are due to a lack of employees, according to S&P Global.
"I expect that the virus a little bit more contained over the next two to four weeks, which would allow more normal travel," one executive at a leading RV supplier. "Obviously, the freight side is going to be an issue – just to get that all caught back up once the ports do start shipping again."
All told, the effects have been devastating, and the lasting effects uncertain.
"Businesses have disruptions, unplanned, in all industries," the executive told RV PRO. "This one's different, and it's probably on a bigger scale. The fact that it affects people makes it a lot more difficult. But there's always disruptions in business at some level."
Tariffs on imports is one thing, but the coronavirus is a different animal. RV industry experts are reporting the reopening of factories in the next few weeks, but the next 30 days will be telling. Should things head south, experts are saying that production will be a big subject during the annual RV Aftermarket Conference this August.