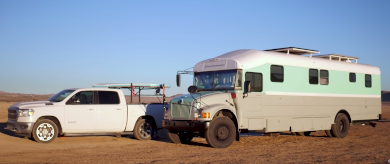 The bus has no problem pulling this full-size pickup, the owner says.
"Jenna" – last name unknown – is a YouTube celebrity with a show she calls "Tiny Tours."
A play on the "tiny houses" phrase that has become so well-known in the past few years, Tiny Tours profiles couples and individuals who live in tiny homes or, in this case, a renovated, 37-foot international bus that a couple named Chris and Brandy live and travel in full-time.
It may be just 200-square-feet to live in, but this couple – and their pets – seem to have totally embraced the lifestyle.