News
Cruiser RV Has New Logo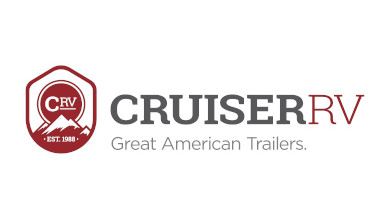 Howe, Ind.-based Ultra-lightweight travel trailer manufacturer Cruiser RV is releasing an updated brand identity, which includes a new logo, new font, new colors and the brand story surrounding Great American Trailers.
"The new identity will highlight why the popular travel trailers are an enduring part of the American landscape – they're built to last," the company said. "And at the heart of the Great American Trailer is a higher quality towable at an affordable price."
"We will begin to roll out the new logo and new look, throughout our website, social media channels, and in the future, on our trailers," said Lesley Melvin, director of marketing for Heartland RV. "The positioning line of Great American Trailers is simple, yet iconic. It looks like a slogan that has been around for decades but felt fresh and a natural evolution from our former tagline. Also, we felt this conveyed the Cruiser RV qualities of honesty, integrity, quality and craftmanship.
"In addition, the new 'badge' for Cruiser RV conveys a feeling of independence, freedom, quality and exploration."
Cruiser RV will unveil more of their new logo and brand story around Great American
Trailers at the Dealer Open House presented by Thor Industries this fall.
"Cruiser RV has a great internal culture that we didn't feel like we were properly presenting to our dealers and our customers which is why this new branding process has been so exciting," said Kyle Miller, director of sales for Cruiser RV. "As we enter this year's open house, we have some amazing new features that we will be debuting, including two patent pending features. These features will change the way our customers use our travel trailer. It's an exciting time to be a part of Cruiser RV, and our entire team has bought into our vision and goals."