RV News
Cruiser RV Unveils 'Luxury-Level' Avenir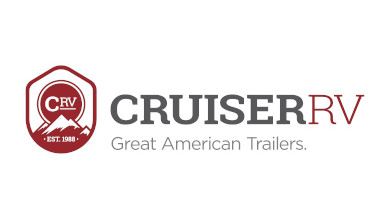 Cruiser RV announced the newest model to its lineup, the Avenir.
According to the company, the Avenir "includes a fresh, of-the-moment design at an approachable towing weight and a competitive price. Avenir's lineup draws from Cruiser's most popular floor plans to create a range of crowd- pleasing layouts that offer amenities and features for all kinds of campers."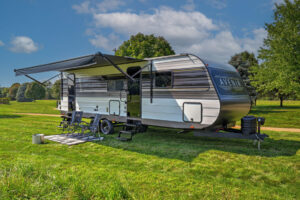 Highlights include a sleek modern decor with a spacious living room; a new, Cruiser-exclusive air fryer oven coming standard in the kitchen; a dinette and sofa that can be arranged into multiple configurations; a 60-inch by 80-inch queen bed; dual wardrobes and under-bed storage.
"With modern technology making it easy for people to work from the road, we're seeing the boundary between work time and leisure time get blurred more and more," said Andrea Graves, director of design for Cruiser RV. "Campers are asking for models that combine their favorite features from home with the flexibility that comes with an RV, so they can extend their vacations a little longer without sacrificing comfort or convenience."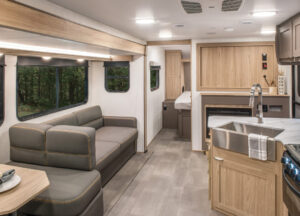 Exterior features include a full glass entry door; a power awning with LED lights; Bluetooth speakers; and outside TV prep with a bracket mount. An outdoor kitchen features a 12-volt fridge and a spray port for maximum convenience.
"We're excited to introduce Avenir to the market as an affordable, entry-level luxury RV," said Heath Lashmit, regional sales manager at Cruiser RV. "There are so many standard features we've included that would come as additional costs from other brands. Coupled with interior design that feels fresh and current, we think Avenir is perfect for anyone just getting started RVing or looking to upgrade to a more luxurious model at a reasonable price."