RV News
CURT Group Announce Launch of New Websites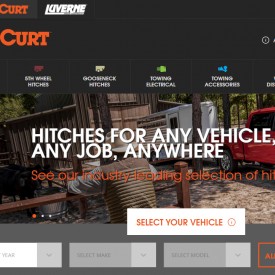 CURT Group has launched new websites for three of its brands: CurtMfg.com, AriesAutomotive.com and LuverneTruck.com.
At the top of the homepage is an updated category menu. There are also links to other brands within CURT Group, as well as featured items and the latest news and events.
One of the key goals of these new websites was to create an SEO-optimized, unified platform for a user-friendly navigational experience.
The dropdown menu provides a simple, straightforward path to products, and each category page has been streamlined to be more product-focused.
In recent months, CURT Group has been taking great strides toward more comprehensive ACES / PIES data – the data recognized universally in the automotive industry – to improve the ability to lookup vehicles.
Some of the next steps to improve the websites will include a unified shopping cart system, a "My Garage" tool to save and apply parts to multiple vehicles, and more digital marketing capabilities.
Later this year, website renovations will be coming to UWS and RETRAC.