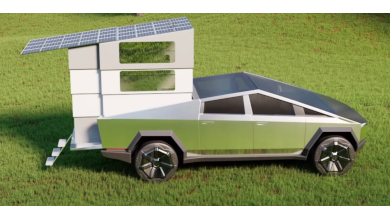 The Cyberlandr
When the pandemic hit, Lance King had a decision to make. Either lay off most of his employees or come up with something entirely different than what his company had been doing.
King is the CEO of artificial intelligence (AI) and real-time analytics firm, Stream It. When COVID-19 hit, his business was devastated, and the future looked bleak.
One fact about King outside of the office: He's a huge Tesla fan. He loves his Tesla 3 Performance sedan and had just placed his order for the company's Cybertruck.
King wanted a camper he could tow with the Cybertuck, but there isn't a trailer on the market that would fit, he said.
So, he decided to invent a trailer specifically for the Cybertruck. King recently decided to speak about his thought process.
"Designing an ultra-modern camper might seem like a stretch for a company like Stream It, makers of an analytics solution based on artificial intelligence and advanced sensors, with transit companies as its main clients. But King realized that his dream and his team were a match," read a company press release. "Just as Tesla, an outsider, had revolutionized the automotive experience, King knew it would require an industry outsider to revolutionize the RV. And, like Tesla, that outsider would need to be a company with a track record in innovative technology and AI and the ability to apply 'first principles' and systems thinking to re-invent what a camper is."
"The more King thought about it, the more convinced he was that his own team had the perfect skillset. 'The talent, hard work and ongoing determination of our Stream It team made the decision to pivot an easy one,' he said. 'They are the force behind the CyberLandr, and have played a critical role in re-inventing the RV to create the ultimate adventure vehicle.'"
King said when he pitched his idea to his team, "After about 30 seconds of stunned silence, Bill French, our chief analytics officer, said, 'A disappearing camper? That's cool as hell, count me in!' His enthusiasm was infectious and the team agreed."
So far, the CyberLandr has more than $75 million in pre-orders and an estimated demand of 10,000 units per year. And perhaps even better than that, in King's mind, is that Elon Musk called the CyberLandr in a tweet, "cool."
The CyberLandr disappears into the bed of the Cybertruck and is powered by AI and solar energy. It features zero aerodynamic drag – crucial for electric vehicles, the company said, where aerodynamics greatly affects range. Cybertruck owners can take a bedroom, bathroom, kitchen, living room and office with them anywhere and everywhere they go. Other features include a recirculating shower, wireless connectivity through a Starlink satellite, free-standing seating and more.