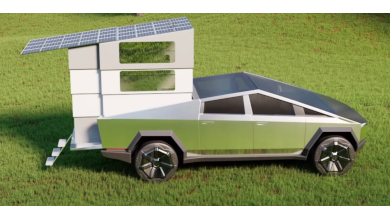 The Cyberlandr
Stream It Inc., headquartered in Las Vegas, has introduced the CyberLandr, a camper/overlander built specifically for the Tesla Cybertruck. The  company said the CyberLandr is meant to allow the ultimate convenience of taking a kitchen, living room, bedroom, bathroom, and office "anywhere and everywhere."
"When stowed, CyberLandr disappears entirely within the bed of the Tesla Cybertruck, allowing the tonneau cover and tailgate to close, creating an exceptionally low center of gravity, zero aerodynamic drag and minimal effect on range," the company said in a press release. "This allows CyberLandr to be taken through terrain more rugged than most overlanding trailers, while still being able to take it into a parking garage at the mall or a Starbucks drive-thru."
CyberLandr reportedly fits in normal parking spaces and doesn't obstruct outward visibility. It offers a hot shower, internet access through the StarLink dish (subscription required), and its plush, freestanding chairs also recline and transform into an RV-size queen bed.
Even with all the storage provided by the Cybertruck's large "frunk," sail panel storage, and generous interior space, owners may occasionally find the need to remove Cyberlandr to haul 4×8 sheets of plywood or a load of mulch. For those times, there is an available dolly to make it easy to remove and store the CyberLandr.
Click here to see the whole press release and watch the video below.