News
Dealer Works to Certify All Service Employees
This article is from our older website archives. Some content may not be formatted or attributed properly. Please
Contact Us
if you feel it needs to be corrected. Thank you.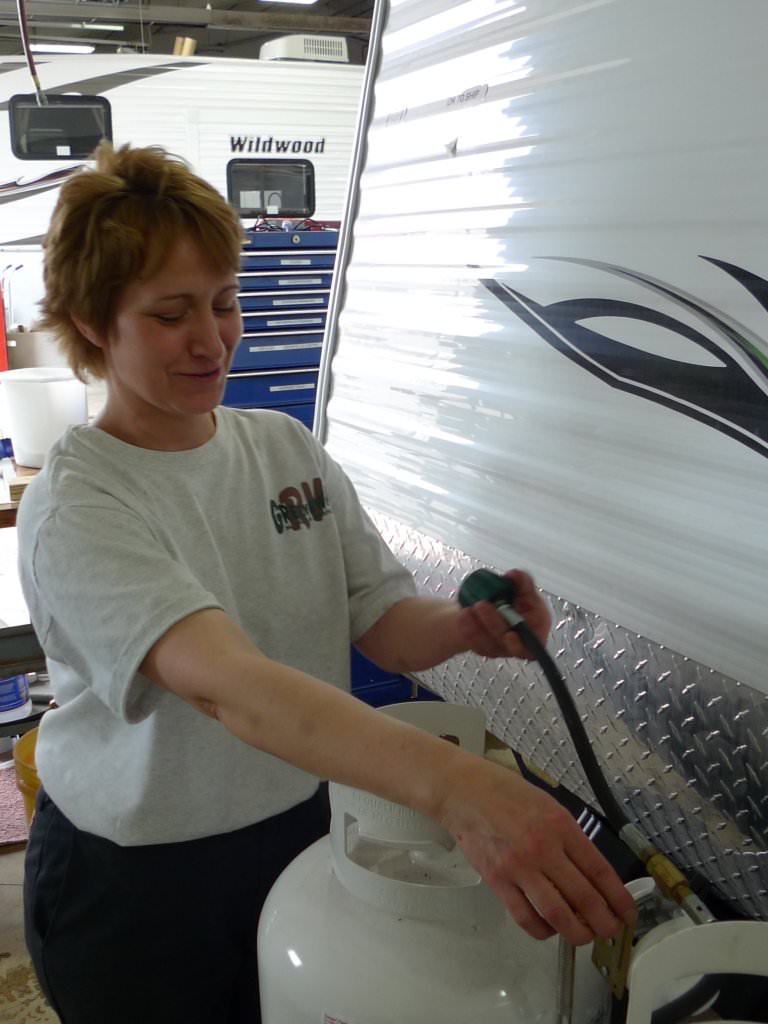 Heather O'Day was first introduced to the work of an RV service technician nine years ago when she began working at Greeneway RV Center as a cleaner for the Wisconsin Rapids, Wisc.-based dealership's parts and service department.
---
Greeneway RV's Heather O'Day works on the propane system of a trailer in a dealership service bay.
---
O'Day enjoyed work as a cleaner, but wanted to learn more about the ins and outs of the appliances, parts and furnishings of the RVs she spent her days cleaning.
She worked her way up to preparing and assisting technicians in repairs, but she still relied on others to make the big fixes, she said.
Last winter, Greeneway RV owner, Mick Ferkey, who co-chairs of the Society for Certified RV Professionals, was talking to his son and parts manager Matt Ferkey, and the two came up with a plan to certify all their service employees.
"We noticed that in the RV industry, there's a bunch of warranty issues and customer service issues, and people are having to take time from their short camping season in order to get stuff repaired, and when things don't go right, it's extra time set aside," Matt said. "We wanted to make sure our dealership was in a position where we wouldn't be the cause of that."
The dealership now has nine certified techs, one of which obtained master certification in that time.
Last winter, the Ferkeys purchased the necessary training materials and began teaching the dealership's service department in small groups in the dealership lunchroom with the help of Master Certified Tech Shawn Diamond.
The decision wasn't cheap. A certification course through rvtechnician.com, the RV industry site for training materials and testing, is listed at $249 per technician, and Greeneway scales an employee's pay based on the certification ladder, according to Mick.
The Ferkeys are betting the return will outweigh the costs.
"Your people are your most valuable assets, but when you train someone and put money into them, they develop a loyalty to the dealership also because they know you're putting money in and that you want them to succeed. When they're happy, they stay with you," the elder Ferkey said. "It's like putting money in the bank, to me. If you take care of somebody, they're going to take care of you."
The goal to certify each employee wasn't without other obstacles. The test itself is no formality, and was revamped in recent years, making it more difficult for techs to obtain certification, Matt said.
"This test is not an easy test to pass," Mick said. "They're doing a very good job of making sure these people have some knowledge behind them to pass this."
For O'Day, the test required long hours in the shop, pouring over study material. She failed the test the first time, but hit the books harder, spent extra time in the shop's repair docks, and passed the exam.
"I did it because it's an honor to be certified. … I poured a lot of energy into studying and understanding everything, and going through the training because I enjoy working on RVs," she said. "It makes you feel more important, more valuable."
During last year's RV Dealers Association Convention/Expo, the Association announced the Society for Certified RV Professionals, to give recognition and support to certified technicians. Mick co-chairs the Society with Rick Horsey.
"RVIA is coming out with this new schooling to help technicians too, and I commend that," Mick said. "We need all the tools we can get to keep these people educated and let the customer have a good experience."
Last year, the RV Industry Association took a renewed approach to technician certification, creating the Technicians for Training initiative to bring training to dealership employees.
The Ferkeys are hoping that the investment in training can pay dividends to the dealership, but also can set an example for other dealers to follow.
"I'm not talking about just service technicians; I'm talking about service writers, parts managers and service managers, too," Mick said. "I want all of them certified because they're the front-line people to the consumer so they need to know what they're talking about too."