News
Dealers Felt Manufacturers Improved Across the Board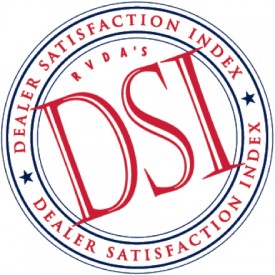 According to the latest issue of RV Executive Today, a publication of the RV Dealers Association, U.S. and Canadian dealers who took part in the annual Dealer Satisfaction Index – or DSI survey – indicated that overall, they felt RV builders improved upon all four issues that were brought up in the survey: product reliability/quality, parts, warranty and sales support.
In fact, according to a report Jeff Kurowski, director of industry relations, dealers believed that manufacturers made significant improvements in 2021 compared to the previous year.
Five hundred and twenty U.S. and Canadian dealers were contacted for the 27th annual survey. Respondents provided ratings on 2,672 brands, an average of more than five per dealer. Each dealer only rated brands that they sell.
In aggregate, dealers rated towable RV manufacturers 4.38 for sales support, up from 4.21 in 2020, and 4.31 in product reliability/quality, versus 4.15 last year. Towable manufacturers also were rated higher in parts and warranty support. Dealers gave towable builders a 4.12 rating in parts support this year, versus 3.95 in 2020. For warranty support, the aggregate rating was 4.17 in 2021, versus 3.96 last year.
In the case of motorhome builders, dealers' DSI ratings for sales support made a dramatic leap to 4.35 this year, versus 4.09 in 2020. Dealer ratings for motorhome reliability/quality also made a big jump to 4.24 in 2021 from 4.06 a year earlier.
Although still trailing reliability/quality and sales support, dealers evidently believed motorhome builders made significant improvement in parts and warranty support. Dealers gave motorhome builders an aggregate rating of 4.10 for parts support this year, compared with 3.90 in 2020, and 4.19 for warranty support, versus 3.89 a year earlier.