News
Dealers, Vendors Impressed with NTP Show
This article is from our older website archives. Some content may not be formatted or attributed properly. Please
Contact Us
if you feel it needs to be corrected. Thank you.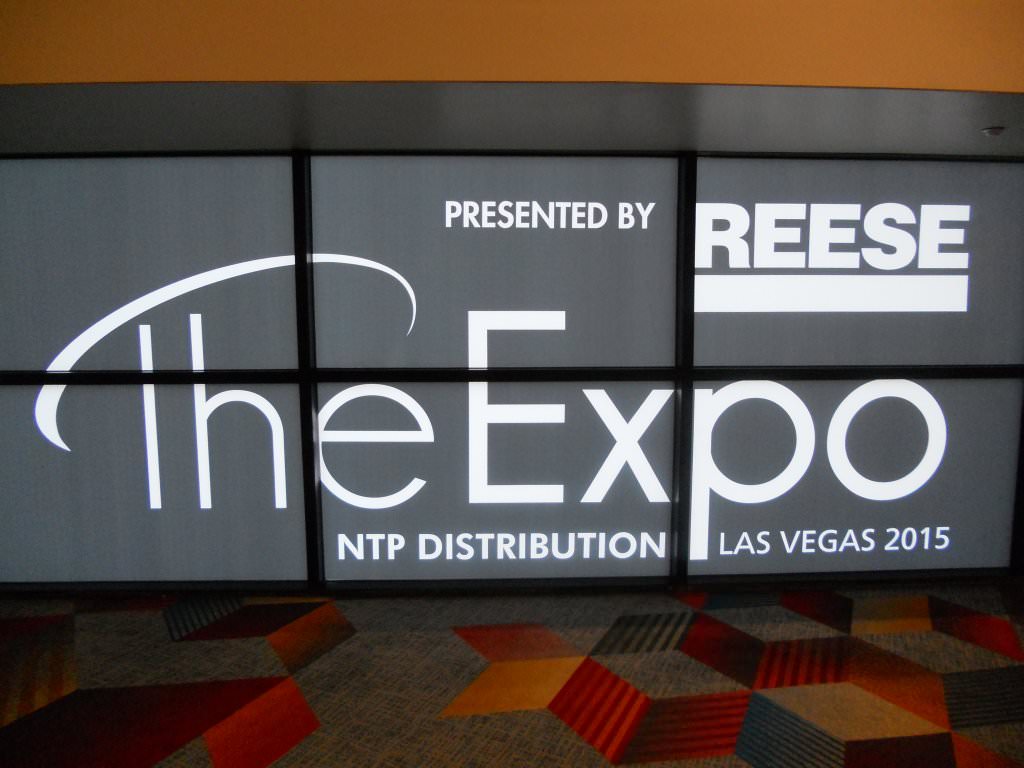 NTP-Stag wrapped up its second three-day show in a month last week, during the Expo at the Venetian in Las Vegas, boasting the company's largest total attendance for a distribution show.
NTP-Stag held separate events this year, after NTP, owned by Keystone Automotive, purchased Stag Parkway last fall. With both shows already arranged, the company held separate events only weeks apart.
Next year's NTP-Stag show will be combined in New Orleans.
Despite its proximity with the Stag show, Jan. 19-21 in Las Vegas, after the first day of the event NTP-Stag Marketing Director Jane Donnelly reported that the show had reached record numbers for an NTP Expo for both dealer and supplier attendance.
ArrKann RV Parts Manager Cassandra Chadbourn, center, poses with Classic Accessories' Harry Allen, left, and an NTP spokesperson after ArrKann won a 1973 BMW motorcycle. Photo by Wendy Miles. Click image to enlarge.
For Derrick Bruenger of PopUp Towing Products, the two shows were very comparable in the way of sales.
"I thought the show was decent," Bruenger said. "I don't think it was better or worse than last year. I felt the two shows (NTP and Stag) were kind of close together, but overall it was a pretty decent show."
Bruenger's company had just added a new gooseneck, fifth wheel adapter with a cushion near the hitch, and said the product drew a lot of interest from dealers.
"That was the one product I had a lot of response on, and everything was positive," he said of the new hitch. "It might be because people tend to go to these trade shows, for one to see what's new and two to get good deals on products they use all the time."
Bruenger wasn't alone. Several vendors reported good traffic and sales throughout the event.
"It was busier, for sure," Liz White of RV Lifestyle Inc. said. "There was a lot more movement and traction."
For the first time, the company opened up sales on the opening day of the event for "Power Hour" participants, during a two-hour preview the night prior to the show opening.
Even Wednesday night's reception at the Rockhouse for NTP-Stag's Canadian customers, sponsored by PullRite and Equalizer, drew record numbers, according to Donnelly.
The event, which featured a mechanical bull, filled the venue, leading a group of attendees to accumulate outside the doors.
On the final day of the event, NTP-Stag held a raffle for a 1973 BMW R60-5 motorcycle, donated by Classic Accessories.
"The promotion was fabulous," Classic Accessories Product Manager Harry Allen said. "The dates were set by NTP, and they controlled most of what transpired for this. It was their deal to take what we offered and make it a reality, and they just did a fabulous job."
The raffle was open to all NTP-Stag dealers in the U.S. and Canada, and dealers received one entry for every $500 in product purchased from Classic Accessories from Sept. 15, 2014 to Jan 16.
ArrKann Trailer and RV Centre in Edmonton, Alberta, Canada, won the motorcycle, accepted by Parts Manager Cassandra Chadbourn. The motorcycle, which wasn't present at the event, will be shipped to ArrKann.
Vendors and dealers eat lunch Wednesday at the NTP-Stag Expo last week in Las Vegas. Click image to enlarge.
Chadbourn said ArrKann wasn't trying to win the raffle, but instead conducting business as usual.
"I didn't know that we did have a lot (of entries)," Chadbourn said. "When we bought them (Classic Accessories products) we just had the intentions of stocking them. We didn't find out there was a raffle going on until a week or two before the show."
Throughout the first night and early at the show Wednesday, NTP-Stag held raffle drawings, giving 10 dealers tickets to nearby shows, such as "Rock of Ages" and "The Beatles Love Experience".
Dealers had the option to swap the tickets for prizes such as Kindle e-reader and headphones.