News
East To West Hires Della Terra Sales Manager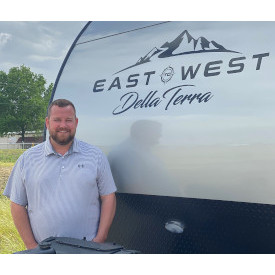 More than half of Matt Olds' RV career has been spent on the retail side.
Elkhart, Ind.-based East To West RV, a division of Forest River, has hired Matt Olds to lead their travel trailer line, Della Terra. Olds takes the reins as Della Terra is experiencing exponential growth, reporting a 56 percent increase in first quarter sales, according to Statistical Surveys Inc.
Olds is a 15-year industry veteran with seven of those years in the retail side of the industry.
"I'm excited to join the team at East To West," said Olds. "With a brand new 100,000-square-foot production facility and an all-star production team, Della Terra has tremendous upside. The quality of East To West travel trailers is top notch. I'm excited to be working with a product with such high standards"
The company says its focus is on high-quality, value-added products with a limited number of floor plans and an enticing list of standards.
"We are laser-focused on only building the best 10 floor plans that are perfectly positioned within the key entry level price points," said Olds. "Stocking and selling Della Terra is easy and efficient for our dealers because we only offer one modern décor and minimal options."
Olds can be reached at [email protected] or 616-633-9572.