RV News
Electric RV Reaches 249 Miles Per Charge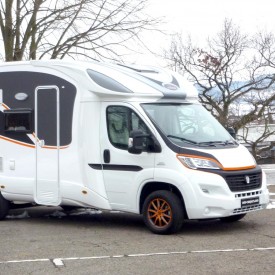 Eight months ago, the world's first completely electric motorhome debuted at a German trade show. With a range of 124 miles, the camper showed that while the RV industry continues to work towards more eco-friendly designs, the big limitation is range.
This story by Megan Barber originally appeared in Curbed.
Now, that same zero-emissions RV is on the market with a longer range and interior photos, to boot. At the 2019 Dusseldorf Caravan Salon, the WOF Iridium debuted with a whopping 249 mile-range with the motorhome's highest battery pack. Dusseldorf also allowed camper lovers a first glimpse inside the Iridium, although the layout is pretty standard.
The Iridium features a dry bathroom and shower, kitchen, and a split double bed. A dining lounge in the front of the camper can seat five thanks to the swivel front cab seats, a dual-seat rear bench, and a side seat. Other amenities include an awning, navigation, and Bluetooth connectivity.
The Iridium EV is the brainchild of two German companies, ElektroFahrzeuge Stuttgart (called EFA-S, an electric vehicle retrofitter) and WOF, a camper van manufacturer. WOF contributed their commercial vehicle chassis while EFA-S provided the drivetrain and battery technology. The E-camper's bodywork comes from the Swiss camper van manufacturer Maurer Fahrzeugbau.
It has a newly advertised range of 249 miles.