RV News
Ember Recreational Vehicles Launches Touring Edition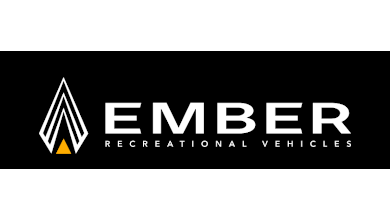 During opening day of its second annual product Expo, Ember Recreational Vehicles unveiled its new luxury light weight laminated travel trailer product line, Touring Edition, to visiting dealers.
"When we set out to create the Touring Edition, not only were we listening to what customers were asking for, but we again put an emphasis on building with higher quality materials, better components, and designing a camping-correct RV, which is what our customers deserve," said Chris Barth, Ember's founder/chief operations officer and head of product development. "Our team didn't shy away from one-upping the competition, challenging the status quo, or making a mark on the segment we're entering. Touring Edition once again proves what hard work, determination, and innovation can do."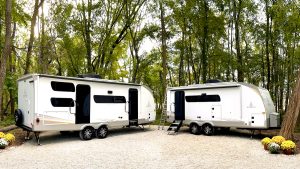 The Touring Edition features 10 floor plans ranging in lengths from 26 to 34 feet, with a mix of both family-friendly bunkhouses and options perfect for couples. Built on a specialty drop-frame chassis featuring over 40 cubic feet of front pass-through storage, Ember's exclusive VersaCoupler hitching system, and riding on Dexter torsion axles with 16-inch Goodyear Endurance LRE tires with standard TPMS, the Touring Edition is equipped for families large and small for all their short weekend trips and longer-haul vacations.
Like the Overland series, Touring Edition uses composite materials with no wood in the construction of the floor and exterior walls. Touring Edition starts with a foundation of Ember's Evermore proprietary composite seamless floor, eliminating the possibility of damage due to rot, mold or mildew. For its exterior walls, the Touring Edition features the same fully composite laminated aluminum-framed construction featuring double-sided Azdel Onboard paneling.
The Touring Edition also the rare European caravan windows that have been so popular in the company's Overland series, it said. These dual-pane acrylic windows with integrated shades and screens open wide, allowing for maximum ventilation and airflow. To make further use of the EuroWindows, Ember also included one the Overland series' Stargazer Skylight in every Touring Edition floor plan.
Further enhancements to the Touring Edition line are the large freshwater tank, a solar power setup for going off-grid and a Bluetooth-powered Smart RV control system.
"We're proud and excited to introduce our newest addition to our product offerings with the Touring Edition," said Ashley Bontrager, founder, CEO and president of Ember. "The team has worked extremely hard the last several months to get to today. The day that we can show our current and future dealer partners what we're capable of and where we're going next after launching our award-winning, market-disrupting Overland Series last year. My goal when starting Ember last year was to build a company that I would want to work for, that I would want to do business with, and that I would want to buy from. All the decisions I've made in guiding Ember throughout the last year have run through at least one of those three filters. I think dealers and customers alike will find that Touring Edition is just another example of the team's focus and how Ember has set out to do something different, always striving to find ways to do and be better."