RV News
Equal-i-zer Teaches Teens About Manufacturing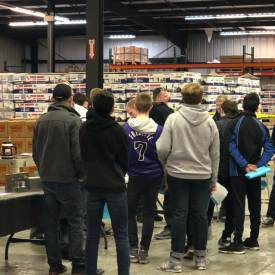 More than 200 Utah Valley teens got a firsthand look at American manufacturing at Progress Mfg., home of the Equal-i-zer hitch and Fastway Trailer Products.
The company was approached by local Boy Scout troops asking for a private tour of the manufacturing area, leading CEO Jed Anderson to open the invitation to any scout or youth group. Anderson wanted kids to learn about career opportunities in manufacturing and provide an opportunity for employees to help educate and give back to Utah teens.
American manufacturing has been in a steady decline since the 1970s. Large manufacturing companies are building products and creating jobs; the problem is, very few of these positions are available in America. In the 1960s, one in four American workers had a job in manufacturing; now less than one in ten are employed in the sector. In fact, the U.S. has lost five million manufacturing jobs since 2000.
"These statistics concern us," said Jed Anderson. "In the past kids could learn about manufacturing positions in high schools and vocational schools. Now they are likely to graduate high school and not have any experience using machinery. We want to change that. We want the next generation to understand the value of American manufacturing and why it is important. The first step is providing an opportunity to see what positions are available and the education needed to secure those positions."
"I don't think people realize how many different positions are required to run a successful manufacturing company," said Michelle Belliston, HR Manager. "During our career night, teens learned about engineering, marketing, production, maintenance, human resources, accounting, and other positions. I think the teens were expecting to see big machines, which they did, and liked, but didn't realize the number of possible careers that are available in manufacturing."
Teens visiting the company toured the manufacturing area, and learned about engineering, sourcing, and production of goods. Then, they were taught about packaging, warehousing, shipping, and marketing the products. Employees had tables set up at the end of the tour where kids could ask questions and learn about the many positions and departments within the company.
"My group was specifically interested in the engineering and production of the parts," said Nathan Pollister, BSA Scout Master. "They were surprised to learn of the amount of testing that Equal-i-zer hitch engineers conduct on a weekly basis, and asked detailed and intelligent questions. We appreciated the opportunity to visit the company and help kids learn about career paths that interest them."