RV News
Erwin Hymer Introduces New Hymer Loft Edition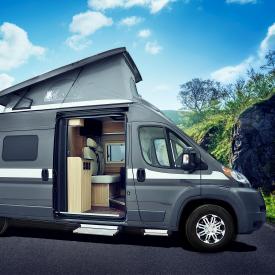 Erwin Hymer Group North America (EHGNA) showcased new models at the RVIA show in Louisville this week, including the all new Hymer Loft Edition on the Aktiv 2.0.
The Hymer Loft Edition allows sleeping for up to six in a Class B motorhome.
The Loft edition on the Aktiv 2.0 features the extended 3500 ProMaster chassis and king size bed with thicker mattress, and optional power leather sofa but with the edition of extra sleeping space in the pop top loft.
Hymer is also making a special announcement?regarding the Hymer Touring travel trailer at the?RVIA show for the dealers in attendance for an exclusive unveiling event in 2018.
"We really offer such a wide range of products that anyone could get into one of our new models," said Jim Hammill, president and CEO of EHGNA, "and we have a lot coming down the pipeline that we are very excited about."