RV News
Exclusive: AIMS Power Partners with Collins & Co. on Distribution of Solar Products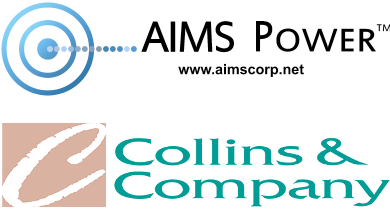 AIMS Power of Reno, Nev., will be partnering with veteran distribution company Collins & Co., a division of Patrick Industries, to have it begin pushing AIMS' solar equipment to its many contacts in the OEM world.
"I've been trying to find a sales force for quite a few years to help me get into that market, whether it was a direct sales force, a sales rep group or a distributor," said Bruce de Jong, president of AIMS. "We actually just haven't ever found the right partner to get us in there."
That began to change a little more than a month ago, when he and representatives from Collins & Co. began talking.
"I have a couple of customers, RV manufacturers, but not the ones they're talking to," de Jong said of Collins & Co. "Not the big boys."
Rich Collins was president of Collins & Co. until it was acquired by Patrick Industries in 2018, and he now holds the title of business unit director.
He said his company has had some experience representing solar companies previously, but the demand currently is as high as it's ever been.
"Our expertise is the OEM manufacturer of RVs, that's where we live and die," Collins said. "We've had some experience with solar and we're really welcoming the opportunity to team up with AIMS and have a complete package. It's really a growing segment of the RV industry; people want to go off-grid and be greener. There's a tremendous desire for solar power now."
Off-grid is the key, de Jong said, and that's why he's confident Collins will be able to find a demand for AIMS' products among the manufacturers.
"We're not just a solar company – basically we've become an off-grid power company," de Jong said. "We started as a power inverter company and we grew into charge controllers, solar panels – slim and rigid – we do the cables, we do the mounts, we do the inverters, obviously, and the batteries. So what we've been doing for many years now is a complete off-grid kit, and we also do – in the past and currently – a lot of truck upfitters, and some RV manufacturers, but all the products are very similar or the same as what an RV could use in their system.
"So all we're doing now is providing the products to Collins & Co. and Patrick Industries so we can provide all that knowledge and products for the RV manufacturers. We'll maybe have to make some minor changes or additions to some products, but in general, whether you make a panel that's 400 watts or 300 watts or 100 watts, it's still the same product, basically. That's why it's good fit."
de Jong said he's looking forward to flying to Elkhart in a couple weeks to meet his new partners at Collins & Co. for the first time face to face and meeting some of its large OEM customers as well.
As for Collins & Co., Steve Janowski, the business development manager, said he's looking forward to approaching clients with AIMS' offerings, both in the OEM and aftermarkets.
"We've had some experience in this area before," said Janowski. "One of the things, to be quite frank, that we think is lacking in the RV industry is just the complete knowledge of what solar is and what it can be used for, and I think that's one of the reasons we're really excited to work with AIMS, because we think they bring the complete package, the complete solar package to the end consumer that makes it easy to use and actually does what it says it's going to do. One of the things we're excited about is educating the OEMs and the end consumer on exactly that."