RV News
Exclusive: Black Folks Camp Too Signs First State RV Association as Partner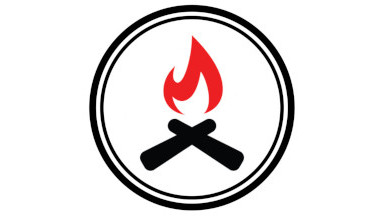 The Unity Blaze
North Carolina-based Black Folks Camp Too (BFCT), a company that strives to connect the outdoor industry to what it says is a vastly untapped market – Black people – announced that for the first time, it is partnering with a statewide RV dealers association.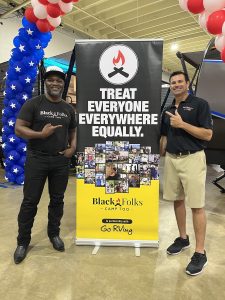 The North Carolina RV Dealers Association has signed with BFCT founder Earl Hunter Jr. to allow each of its 27 members to sign up to receive training from BFCT to become what's called a "Unity Blaze partner." The Unity Blaze is the campfire image that is at the heart of the BCFT logo, and Hunter said that it's intended to be a powerful symbol that translates to, "Treat everyone, everywhere, equally."
"We've had several dealers in the past that have come on board with our Unity Blaze message, but the North Carolina RVDA made it a point to make sure that all of its members know about the Unity Blaze, know about Black Folks Camp Too, know about what we're doing to unify the RV community as we are, and they signed on to be our first RVDA regional partner," Hunter said. "All 27 dealers under the NCRVA have the potential to be Unity Blaze partners."
To earn that distinction, the dealerships must go through a three-part training exercise with quizzes at the end of each part, and those who pass receive a Unity Blaze flag they can fly outside their dealership, a banner they can display in their showroom and a window decal saying they are a member for that year – similar to a chamber of commerce sticker.
Hunter notes that as a group, Black people have approximately $1.3 trillion in disposable income, so for RV dealers to not be marketing to them is like leaving money on the table. But it's not enough just to throw advertising their way – it's messaging that must be delivered the right way, and it needs to overcome stereotypes and beliefs that have been formed in the Black community over time, said Hunter, who is Black. Like it or not, he said, many people who look like him think that "camping is for white people" or "Black people don't buy RVs."
"Black folks – you don't see us trail running, mountain biking, kayaking, canoeing, etc. … These are things that we as a company are going to combat as we get more Black folks out into the outdoors. It's all-encompassing," he said.
And, he stresses, although "Black" is in the company name, the core message of its mission is one of inclusion.
"When you first look at our company and see the words Black Folks Camp Too, most people assume that all we're talking about is just being inclusive to Black folks, and that's not the truth. We are a very inclusive company in regards to everyone," he said. "We just know we need to get some more Black folks in the outdoors. … The RV dealer needs to understand why that consumer has not come into the outdoors."
That's where BFCT comes in. Hunter and his team have spent a few years gathering statistics and data so they can demonstrate to dealers why many Black people are not RVing. Once they understand the why, then they can formulate a plan, with BFCT's help, to reverse that thinking using the power of the Unity Blaze.
While that's a positive message, Hunter said, the bottom line is, taking that message to heart is good for the outdoor industry's bottom line.
"This is not a Kum Ba Yah moment, this is an ROI moment – return on inclusion," he said.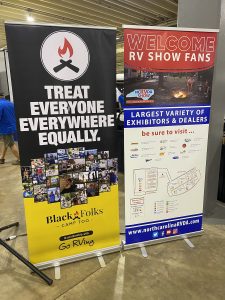 Travis Creech – president of the North Carolina RV Dealers Association and the operations manager at Rex & Sons RV in Wilmington, North Carolina, his family's dealership celebrating 25 years in business this year, said he has known Hunter for years. The two met when the latter worked for SylvanSport, where he got the idea to found BFCT.
"He's a great speaker and the message that he's got here – Black Folks Camp Too and the Unity Blaze – I know it's powerful to him and it's all true stuff," Creech said.
Born and raised in a southern state, Creech said he's aware of what a delicate topic race can be to some people, but his parents raised him to have a live-and-let-live attitude, and he feels the fact that the Unity Blaze is just a stand-alone campfire symbol and does not have the word "Black" on the flag or the sticker makes it that much more inclusive to everyone. Or should, anyway.
"I think it's difficult (for some people), but it's only as difficult as you make it," Creech said. "If your dealership is open to everybody then it shouldn't be difficult for you.
"Bringing everybody together at the campground – we all have that goal as an industry."