News
Exclusive: Chinook RV has Some Showing Off to Do

Open House Week may be cancelled again this year, but the principals at Chinook RV are still hoping to attract some dealer partners to their headquarters in Peru, Ind., about 80 miles south of Elkhart, next week. They have new products to show off, said Chinook President Phil Rizzio, and his team is awfully proud of what they'll have on display.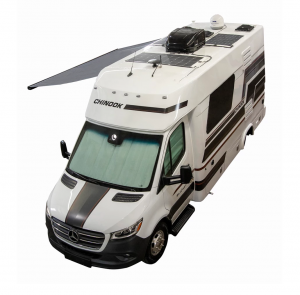 "We've had a select number of dealers that have reached out to us and that have expressed they are still coming and would like to see our products," Rizzio said. "Not only while they are being assembled, but products that we've completed. We have pretty much a complete product line available for the dealers to come and see. And also, some new exciting products out.
"We came out with the Dream Hauler this year and it has been an absolute hit. People are going crazy over them. Basically, what we've done is combine a toy hauler and a travel trailer."
And the next step beyond that will also be on display to visitors, Rizzio said: the Suite Dream.
What differentiates the Suite Dream is its fiberglass construction. The company went away from the traditional stick-and-tin, he said, adding that its amenities – 45-gallon black and gray tanks and a 90-gallon freshwater tank, for example – will surprise.
But perhaps the unit Chinook is most excited to show off is its Summit, one of two new Class B's it is introducing for 2022.
"That's the unit that was announced sometime back that we had sent through the Truma testing center and we came back with a gold certification," Rizzio said. "It's the only four-season RV that they had certified to date at that time. I don't know if they've (awarded another certification) since, but nobody has been able to accomplish that."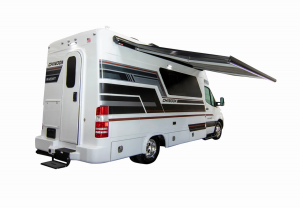 "It's a B-plus motorhome on a Mercedes-Benz chassis," added Jeff Butler, Chinook's general manager. "It's got some very unique ways of construction that aid in the insulation of the motorhome. For example, there's a method to how we build our floors that reduces the thermal transmission by up to 40 percent. So, the cool stays cooler but the heat stays hotter inside."
Added Rizzio: "The walls, they are not built of fiberglass or your common products. They are made of metal, just like your car."
So, the Summit is one they really want to show off in person. Also, the Bayside – the other Class B that's new. Built on a Ford Transit chassis, a dry bath is one big differentiator for this new model, Rizzio said.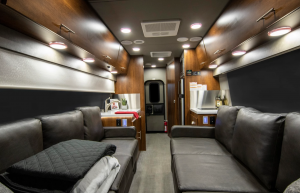 Chinook has two manufacturing buildings in Peru totaling about 185,000 square feet – one that produces the company's motorhomes and the other its towables. The company employs about 80 people, Rizzio said, and is content to focus its production efforts on quality, not quantity.
As it is, the company faces a backlog that extends well through next year, but Rizzio said that still has not stopped its creative engineers from coming out with new products they believe will make a splash in the market. He and Butler are looking forward to showing off those products in a few days, he said.
"We have some open slots, we have some room for a couple more dealers, but we're not actively looking for a bunch, to be honest," Rizzio said. "What we are looking to do is to bring to the forefront some new products, some new innovations, that are going to be appealing to not only the dealers but to the customers, giving customers a different flavor."