RV News
Exclusive: Eclipse RV Debuts All-Electric Toy Hauler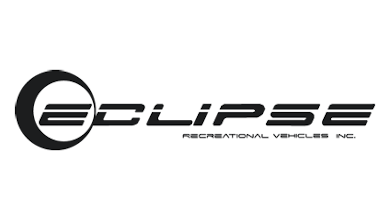 California's Eclipse RV, makers of the Attitude line of toy haulers, has announced the industry's first all-electric toy hauler. Three years ago the company had developed a hybrid unit that could run about eight hours off of solar/ battery power before the generator needed to be fired up. Now, extended off-grid excursions may not require use of the generator at all.
"In the past the limiting factor was just the technology of the batteries," said Dan Davia, regional sales manager for Eclipse. "And we're at the point where we can power the whole entire coach – the air conditioner, everything – off the batteries and solar systems that we have. And it's unlimited; so as long as there's sun we're good to go without a generator."
The company started down this path a few years ago, bolstered by some key partnerships. Dallas Christison of Arizona's RV Power Pros has been instrumental in helping develop their system, said Kevin Flores, Eclipse's national sales manager. RV Power Pros specializes in solar systems for RVs and he helped Eclipse develop its hybrid system a few years ago.
"Nobody else was doing it," Davia said. "A couple of manufacturers started dabbling into it, but we've been working really hard on it. We brought in a lot of technology from the yachting industry, because a lot of those guys run 100 percent electric."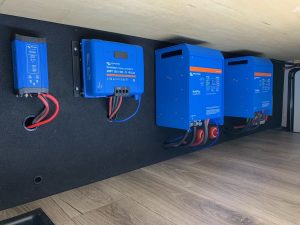 It was through RV Power Pros that Eclipse discovered Victron, which is based in the Netherlands. Victron is a high-end maker of inverters and solar management software, and has been building solar systems for racing yachts for years.
A fellow Riverside, Calif., company, SunSpark, supplies Eclipse with the 320-watt solar panels that it uses. And a Chinese company called LandVessel makes the UMPH lithium ion batteries that the Attitude is powered by.
The challenge after the hybrid system was to find a way to eliminate the need for a generator at all – except when there is absolutely no sunlight over the course of several days. This is what off-the-grid enthusiasts – mainstays of the Eclipse clientele – were asking for.
"This got all our wheels turning to an alternative source for power," Flores said. "None of the current RV batteries or solar companies had anything close to the power we would need for this project. We needed something huge!"
Eclipse has long been a customer of LandVessel, which manufactures in China but is run by Americans.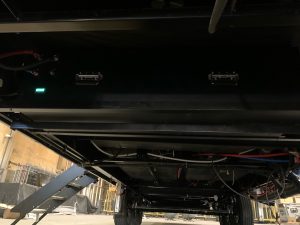 The breakthrough came with the development of a 24-volt, 480ah battery that stores the energy harnessed by the solar panels. This allowed for four times the efficiency – storage capacity – of traditional 12-volt batteries.
When the coach is drawing battery power, it is pulling it through two 3,000-watt Vitron inverters which turns it into 110-volt power to run the coach.
"We have a larger battery capacity, is what it really boils down to, and we have high-efficiency appliances," Davia said. "We're running a mini-split residential air conditioning system, like you would have at home. We're also running residential refrigerators, which really maxed our efficiency. (But) we went from a 12-volt (battery) system to a 24-volt system, which quadruples efficiency."
As of now, just one Attitude – the 3421GIG floorplan – has the all-electric system, but expect more to follow, said Kevin Flores, Eclispe's national sales manager.
"From the three-ton mini-split to the residential GE refrigerator, you will truly feel the creature comforts of home while enjoying the great outdoors," Flores said.